All Posts including "Webster"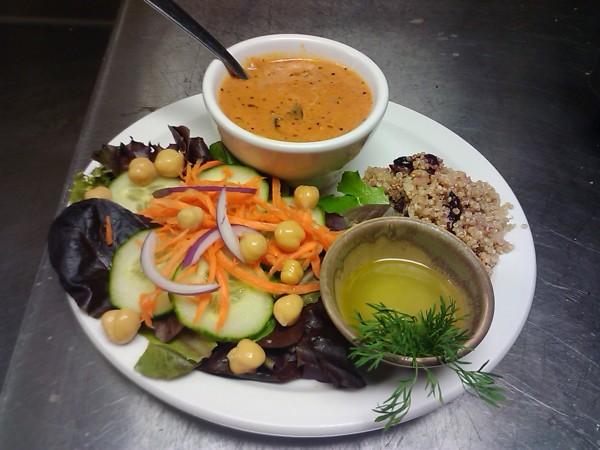 By Emily Edling, Local Food Journey Intern
Webster's Bookstore Café is known for its cozy atmosphere of used book and a broad selection of café drinks. But what sets them apart from the other coffee shops of downtown State College is their wide range of food, especially their vegetarian and vegan options, utilizing local sources to make these tasty meals.
Aside from specialty coffee and tea drinks, Webster's does a lot of things with vegetarian ingredients such as hummus, paté, and portabella mushrooms all of which can be made in the form of sandwiches, salads, paninis, or wraps and that are all vegan unless you choose to add cheese. They also offer a soup of the day and other daily specials, which offer even more vegetarian options.
For non-vegan's there are also many egg sandwiches and burritos available, each with a literature-themed name. In fact, with the exception of about two or three items, the entire menu at Webster's is vegetarian friendly—it's a dream come true! My personal favorite is the Spicy Bean Chili, which is a vegan dish that has the perfect amount of spice to warm up on these cold winter days.
Continue Reading: Webster's Bookstore and Cafe offers up local food options for the literary inclined
Posted by Local Food Journey on 02/06, 2015 at 01:59 PM
Tags: vegetarian | vegan | Webster's |
Page 1 of 1 pages