All Posts including "Groundworks"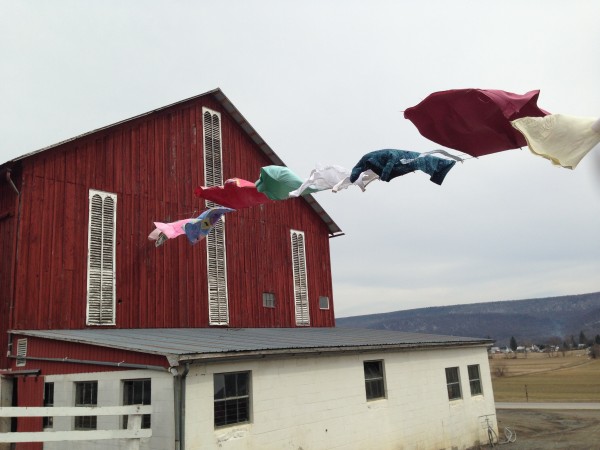 On April 2, a day that promised spring with mild breezes after a late-season snow, I visited two eastern Centre County farms at the invite of Nell Hanssen, the coordinator of Groundwork Farms CSA. The farms were Spring Bank Acres and Shady Locust Produce, both located in the beautiful countryside around Mlllheim, Aaronsburg, and Rebersburg.
First, a bit about Groundwork Farms CSA. The CSA offers food from the Penns Creek Watershed region to individuals, restaurants, and grocery stores in Centre and Union Counties. Originally limited to produce, the CSA now offers vegetables, berries, herbs, bread, flowers, dairy products, eggs, and meats. Even in the winter, CSA buyers can receive dairy products, bread, eggs, winter soups, and in-season produce. There are also opportunities to buy local fruit, flour, mushrooms, canned goods, and honey. Really, they offer a complete package of local food.
Among the local food producers in the CSA are Shady Locust Produce, King Family Farm, Halflinger Farm, Crystal Hollow Farm, and Spring Bank Acres. The two farms I visited, Spring Bank Acres and Shady Locust Produce, are Amish-run.
Continue Reading: A visit to the farmers of Groundwork Farms CSA
Posted by Jamie Oberdick on 04/14, 2015 at 12:26 PM
Tags: Groundworks | CSA | farmers |
Page 1 of 1 pages