Posted by Jamie Oberdick on 05/02, 2014 at 11:58 AM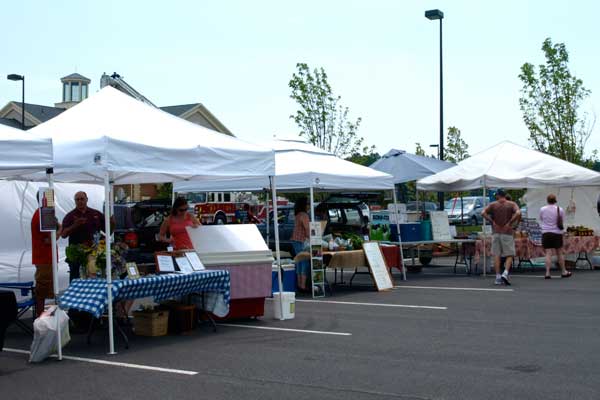 This is a really exciting time to be a local foodie, as the warm season is finally here (even though most mornings we still need a jacket). Because this is the time of farmers markets, outdoor festivals, etc. we are bringing back the Local Food Weekend feature. Each Friday we help you plan your weekend by highlighting some of the local-food related events going on Saturday and Sunday.
Our first event is put on by one of our hubs of local food, Tait Farm, which is holding their Gardener's Open House. Click the link below after "Continue Reading" to find out more about that event and others…
Gardener's Open House, Tait Farm, Centre Hall, Saturday 9:00 a.m.-5:00 p.m.
Tait Farm always puts on great events and this looks to be no exception. Throughout the day there will be gardening, cooking, and craft demos. Learn how to grow a great garden, make tasty recipes from what you grow, and even learn how to make a birdbath. Also, the Harvest Shop will offer great local food selections and the greenhouse will feature over 60 varieties of organic tomatoes seedlings, and 33 varieties of farm-grown organic pepper seedlings.
Various Farmers Markets, Saturday
If you are a local foodie, the return of outdoor farmers markets is like Christmas Day. Most markets are now open, including the following Saturday markets:
Bellefonte Farmer's Market, 8:00 a.m.-noon: Head to the Gamble Mill parking lot for fresh greens, baked and canned goods, eggs, Pennsylvania-made wines, fresh pasta, meat (bison, grassfed beef, pastured pork), soaps, dog biscuits, and more.
Central PA Flea & Farmers Market, 8:00 a.m.-noon: This one is a different than the others in that it not only offers fresh local produce and other local food items, but a flea market as well. Held at the Grange Fair grounds.
North Atherton Farmers Market, 10:00 a.m.-2:00 p.m.: Held in the parking lot of the State College Home Depot, the one thing I think this farmers market really has going for it is the presence of the fantastic El Gringo Taco Truck, featuring Mexican food with local ingredients.
Central Pennsylvania Native Plant Festival and Sale, Shavers Creek Environmental Center, Petersburg, Saturday 10:00 a.m.-3:00 p.m.
Along with the opening of farmers markets, it's also that time of year for plant sales. The Pennsylvania Native Plant Society is holding a native plant sale, which will also feature seminars on improving your backyard habitat, guided plant walks, and local food.
Author: Jamie Oberdick
Bio: Editor, Local Food Journey | Passionate about supporting local food in Central PA