Posted by Jamie Oberdick on 05/09, 2014 at 11:38 AM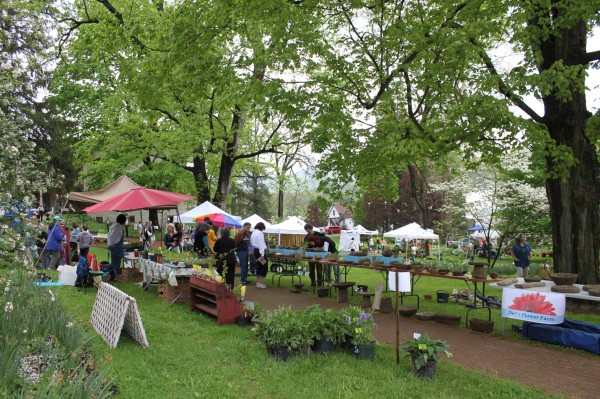 This weekend features Way Fruit Farm's Apple Blossom Festival, Centre Furnace Mansion Plant Celebration, Harrison's Wine Grill & Catering special Graduation Dinner, and Webster's Mother's Day Brunch Buffet.
Apple Blossom Festival, Way Fruit Farm, Port Matilda, Saturday, 10:00 a.m.-4:00 p.m.
Head out to Way Fruit Farm Saturday for their Apple Blossom Festival, which will feature wagon rides through their orchard, children's storytime, a chance to sample local food and meet local food vendors, and more. They will serve breakfast and lunch in their cafe (including a feature in our Five Must-Have Local Food Bites post).
Penn State Graduation Prix Fixe Dinner and Dinner Buffet, Harrison's Wine Grill & Catering, State College, Saturday, 2:00-10:00 p.m. for Prix Fixe and 5:00 p.m.-9:00 p.m. for Dinner Buffet
If you have a proud Nittany Lion making her or his transformation to proud Penn State Alumnus, then Harrison's is offering two fantastic options for celebratory dinners. First, the Wine Grill Prix Fixe Dinner features four courses of local food goodness (or three courses for children 12 and under). If you have a large group of more than eight, then Harrison's offers a grand buffet of various amazing local food choices.
Plant Celebration, Centre Furnace Mansion, State College, Saturday, 9:00 a.m.-4:00 p.m.
An important fundraiser for the Centre County Historical Society, the 19th annual Plant Celebration is a great place to find that perfect garden addition. Fourteen different plant vendors will be there, along with flower pot decorating for kids, master gardeners answering your question, a Centre Furnace Open House, and a presentation on hydrangeas.
Mother's Day Brunch Buffet & Photo Op, Webster's, State College, Sunday, 10:30 a.m.-3:30 p.m.
Enjoy a brunch featuring lots of local ingredients - Roasted organic potatoes, frittata with Spring Bank Acres eggs, Yogurt parfaits with Spring Bank Acres vanilla yogurt, blueberry quinoa pancakes, avocado breakfast pizzas with Greenmoore Gardens arugula, local cheese platter, local bacon, and beverages, desserts and more. Attendees will also get to take home a professionally photographed portrait, so wear your Sunday best.
Author: Jamie Oberdick
Bio: Editor, Local Food Journey | Passionate about supporting local food in Central PA