Posted by Jamie Oberdick on 06/20, 2014 at 12:43 PM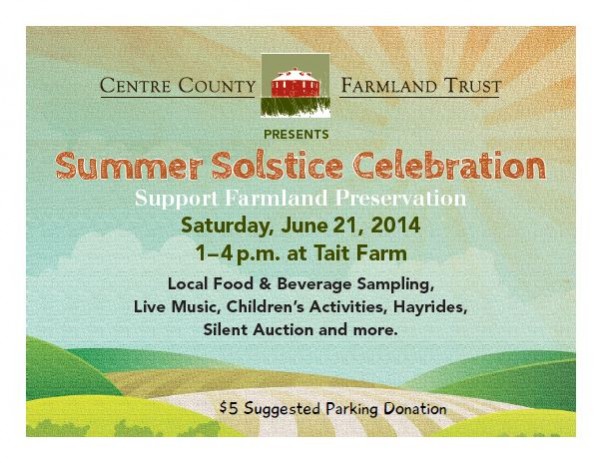 This weekend you can enjoy a summer celebration at Tait Farm, experience a garden via your five senses, meet PBS Kids' very own Daniel Tiger, enjoy free wine and cheese tastings, and go back in time musically with The Dustbowl Revival.
Summer Solstice Celebration, Tait Farm, Centre Hall, Saturday, 1:00 p.m.-4:00 p.m.
Remember like four months ago when it seemed like summer would never happen again? Okay, you likely blocked that from your mind. Tait Farm is excited about summer as you are, so they are holding a Summer Solstice Celebration at the farm tomorrow, benefiting the Centre County Farmland Trust. The event features local food and beverage sampling, live music, hayrides, kid's activities, silent auction, and more.
Touch, Taste, and Feel the Garden, Bellefonte Community Children's Garden, Bellefonte, Saturday 11:00 a.m.
Come find out how you can use all five senses to enjoy a garden this Saturday at the Bellefonte Community Children's Garden. Attendees will explore the garden using their senses, and also learn how insects can see colors we can't and how they can taste with their feet. Which is something I am thinking more farmers market vendors are happy people can't do.
Meet PBS Kids' Daniel Tiger, DelGrosso's Amusement Park, Tipton, Saturday 11:00 a.m.
Everyone loves Daniel Tiger, and the PBS Kids star will be paying a visit to our backyard at DelGrosso's Amusement Park in Tipton tomorrow. Stop by to meet Daniel and pick up a WPSU Detective Book to find clues around the park and win door prizes. The first 400 kids (up to age 10) who complete the book with receive fun giveaways including a jar of DelGrosso's Pizza Sauce (maybe to make your child's first homemade pizza!).
Free Wine and Cheese Tasting, Mount Nittany Vineyard and Winery, Centre Hall, Saturday noon
Mount Nittany Vineyard and Winery continues their celebration of National Dairy Month via weekly wine and cheese tastings every Saturday with one featuring Clover Creek Cheese Cellar. Come try cheese that is as delicious as where its made is beautiful (Blair County's Cove Valley). Not to mention, of course, Mount Nittany Winery's wonderful offerings.
The Dustbowl Revival, Elk Creek Cafe + Aleworks, Millheim, Sunday, 5:00 p.m.
One of the best places to enjoy a local food dinner and a local-made microbrew will host an evening of raucous roots, swing, and blues music Sunday at the Elk Creek Cafe + Aleworks. Hailing from Venice, CA, The Dustbowl Revival merges bluegrass, gospel, jug-band, swamp blues, and swing into one hot mess that's a lot of fun.
Author: Jamie Oberdick
Bio: Editor, Local Food Journey | Passionate about supporting local food in Central PA