Posted by Jamie Oberdick on 06/13, 2014 at 12:37 PM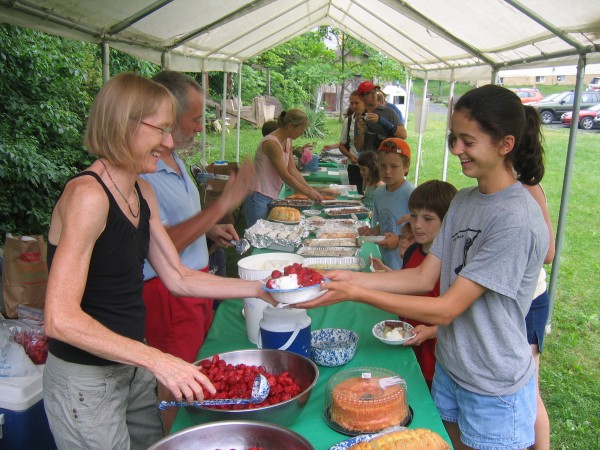 This weekend, you can enjoy pick-your-own strawberries, a Strawberry Festival in Lemont, wine and cheese tastings, and blues and soul to go with your local beer at the Gamble Mill Inn.
Pick Your Own Strawberries, Way Fruit Farm, Port Matilda, Saturday 8:00 a.m.-5:00 p.m.
Celebrate both strawberry season and the return of the sun after a dreary week at Way Fruit Farm tomorrow. Strawberry season is in full swing and you can enjoy either pre-picked strawberries at Way, or you can go into their extensive patch and pick your own. They do recommend you bring your own container. While there, you can enjoy breakfast or lunch featuring some local foods at their cafe and purchase a wide variety of local food products.
Free Wine and Cheese Tasting, Mount Nittany Vineyard and Winery, Centre Hall, Saturday, noon-5:00 p.m.
As part of their weekly wine and cheese events during Saturdays in June, tomorrow Mount Nittany Vineyard and Winery will hold tastings of their excellent wine and delicious Goot Essa cheese. Goot Essa cheese will be available for sample and sale, and if you've never had it, we cannot recommend it enough.
Strawberry Festival, Village Green, Lemont, Saturday 4:00-8:00 p.m.
Back to strawberries, the 33rd Annual Strawberry Festival benefiting the Granary Project of the Lemont Village Association will be held at the Village Green in the center of Lemont. The event will feature (of course) lots of food involving strawberries, live music, kids' activities, pony rides, and perhaps the most quirky thing at the event, smoothies made by a bicycle-powered blender.
Miss Melanie & the Valley Rats, Gamble Mill Inn, Bellefonte, Saturday, 7:00 p.m.
Enjoy some smoking blues/soul Saturday night in Bellefonte via Miss Melanie & the Valley Rats. The band features the incredible voice of Melanie Morrison Zeigler, who can shift from whipping the barroom dance floor into a frenzy to serenading them with a soul ballad.
Author: Jamie Oberdick
Bio: Editor, Local Food Journey | Passionate about supporting local food in Central PA