Posted by Jamie Oberdick on 08/23, 2013 at 10:59 AM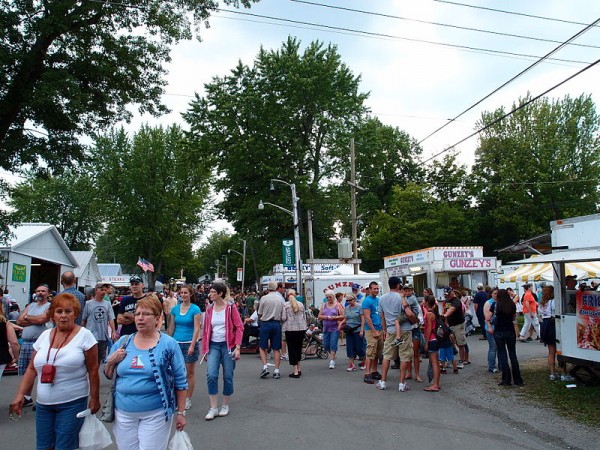 This weekend is a Grange Fair weekend, so that's what dominates the schedule for our Local Food Weekend. Billed as the "Nation's Most Unique County Fair", I'd say it lives up to that title just by the encampment alone, which is a series of large tents where families basically spend a week living at the fair. So, it sort of makes for an interesting version of people watching. I can imagine for the kids, living at the fair is a dream come true.
The Grange Fair is an agricultural event, so if you are a local food enthusiast, it's definitely worth a trip. Along with livestock exhibits, they also have a variety of produce exhibits, including canning. My wife was mortified by the sight of a whole chicken canned in a large Mason jar. I admit that the sight of a whole chicken in a jar, which is something most of us are used to seeing frozen or in a roasting pan, is rather unusual but this is an old way of preserving meat. You can also find freakishly huge pumpkins, unusual tomatoes, and more.
Along with chicken-in-a-jar, crazy produce, and mooing cows, there is also daily live entertainment, including Grange Fair Idol Sunday night at 8:00 pm on the grandstand and an Elvis impersonator Saturday night. Since this is a food blog, there are also an almost overwhelming selection of food to try, including some local choices. You can also find local food products to buy, such as Bonfatto's wing sauces.
The Grange Fair runs through August 29, and hours this weekend are 8:00 am-10:00 pm both Saturday and Sunday.
Here's the rest of what is going on this weekend:
Live Music Featuring Biscuit Jam, Happy Valley Vineyard and Winery, Saturday August 24, 4:00-6:00 p.m.
Biscuit Jam will play Americana music live at Happy Valley Vineyard & Winery.
Live Music Featuring Ted McClosky and the Hi-Fis, Elk Creek Cafe + Aleworks, Saturday August 24 8:00 p.m.
Enjoy some local brews and fantastic local food while listening to the roots-rocking local sounds of Ted McClosky and the Hi-Fi's. From their Facebook page: "Raunch and roll brawlers, acoustic bawlers, and post punk underground all find a home on this seemingly packed away memory box labeled "Almost Sentimental". McCloskey's magnifying glass approach to songwriting begs you to look closer while his knack for sucking a listener into a song within the first ten seconds has never been more refined."
Convinced me. Gotta go.
Author: Jamie Oberdick
Bio: Editor, Local Food Journey | Passionate about supporting local food in Central PA