Posted by Jamie Oberdick on 08/16, 2013 at 01:34 PM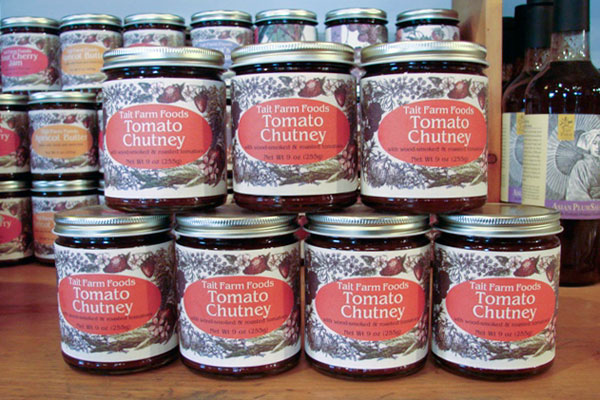 It's mid-August already? Don't lament that we are this late in the summer, celebrate that we are in what I think is the peak period for local food. And there's lots to do that has a local food angle this week! Go celebrate tomatoes at Tait Farm, attract butterflies at Rose Franklin's Perennials, get artsy/crafty in Bellefonte, learn how to survive The End with really local food, and/or have a tasty cold one at the State College Brew Fest. Keep on reading…
Tomato Celebration, Saturday 1:00-4:00 p.m., Tait Farms, Boalsburg
August is peak tomato season, and to celebrate this star of summer, Tait Farms is holding its annual Tomato Celebration from 1:00-4:00 p.m. Saturday. Join the Penn State Extension Master Gardeners and Tait Farm Foods for a tomato taste-off, a tomato toss for kids, and a chance to enjoy tomato inspired dishes.
Tomato and vegetable gardening expert and Centre Daily Times gardening columnist Dr. Bill LaMont will be present to answer tomato and vegetable gardening questions.
Gardening for Butterflies, Saturday at 11:00 a.m., Rose Franklin's Perennials, Spring Mills
What do butterflies have to do with local food? Well, for starters, they are pollinators. Plus, who doesn't like to have butterflies around? Find out how to attract them via a free slide presentation from Rose Franklin's Perennials, which will show how to attract butterflies to your property. While there, you can tour their butterfly nursery (where they rear Monarchs) and visit the butterfly flight room (where you will see numerous Pennsylvania native butterflies in an enclosed structure).
Bellefonte Arts & Crafts Fair, Saturday starting at 10:00 a.m., Tallyrand Park, Bellefonte
Find a variety of arts, crafts, food, and people watching at the annual Bellefonte Arts & Crafts Fair. Among the local food vendors present at the event include Big Al's Sweet and Spicy Mustard, Mister G Coffee Company, The Pipers Peck, Stone House Mixes, and University Wine Co.
Survivalist Day, Saturday 2:00-9:00 p.m., Bald Eagle State Park, Howard
Rest easy when the zombie apocalypse sweeps across Central PA thanks to this complete day of learning how to deal when the lights go out, food and fuel is hard to fine, and even when you realize you don't have any rope. Join the Bald Eagle State Park naturalists as they guide us through making fire, creating your own rope, and perhaps most important to us local food fans, finding wild edibles. Because in survival time, all food will probably be pretty local.
State College Brew Expo, Saturday 5:00-9:00 p.m., Tussy Mountain Ski Resort
After learning how to find your own food, maybe you can learn how to make your own beer and try a wide variety of others at the 15th annual State College Brew Fest. The event will be highlighted by live music, food, informative beermaking seminars, and of course lots of different beers including local brewers like Elk Creek Aleworks, Gamble Mill, Marzoni's, and Otto's. The expo benefits Penn State Coaches vs. Cancer.
Of course, as always, Saturdays are a great time to visit our many farmers markets in the area. Find one by searching here.
Author: Jamie Oberdick
Bio: Editor, Local Food Journey | Passionate about supporting local food in Central PA