Posted by Michele Frank on 11/23, 2010 at 05:03 PM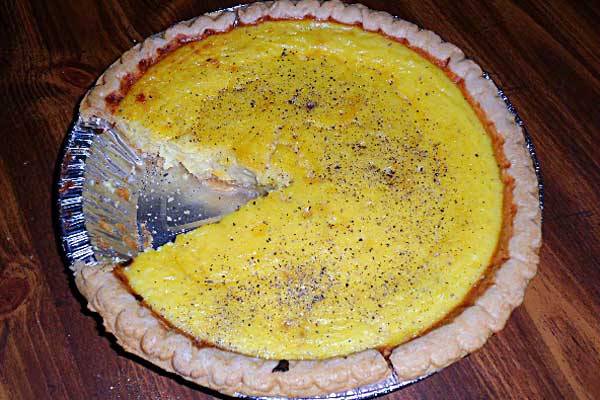 Monday night football was on the television, and the guys were at my place with their eyes glued to the screen. Anxious to have new recipe test subjects, I proposed that I make some food. However, when I mentioned squash, a loud groan echoed throughout my apartment.
"Why can't we just order wings?" and "Really? Vegetables for a football game?" But I stood my ground, and finally they admitted that free food was better than no food at all.
After pulling the quiche out of the oven, I left the room for five minutes. When I came back there was a huge chunk missing, and nobody would fess up to the crime. I guess vegetables for a football game were not such a bad idea after all.
Ingredients
1 9-inch frozen pastry crust
1 small onion, chopped (about ½ cup)
1 tablespoon butter
1 cup sharp white cheddar cheese, shredded
3 eggs, beaten
1 ½ cups milk
1 cup winter squash, cooked and pureed
½ teaspoon salt
¼ teaspoon ground nutmeg
½ teaspoon ground pepper
Directions
Preheat the oven to 350°. Bake the frozen pastry crust for 5-7 minutes, or until slightly browned.
While the crust is baking, in a small skillet sauté the chopped onions with the butter. Remove the crust from the oven and fill it with the cheese and cooked onions.
In a small bowl, combine the eggs, milk, squash, salt, nutmeg, and pepper. Mix well and pour the mixture into the pastry shell.
Reduce the oven temperature to 325°, and bake the quiche for 40 to 50 minutes, or until a knife inserted in the center comes out clean. Let stand for 10 minutes before serving.
Author: Michele Frank
Bio: Michele is a senior at Penn State majoring in print journalism. She loves to cook for her friends and family, and wishes to make a career out of her hobby. She spent last summer working for Gulfshore Life Magazine in Naples, Fla.