Posted by Jamie Oberdick on 12/02, 2016 at 03:20 PM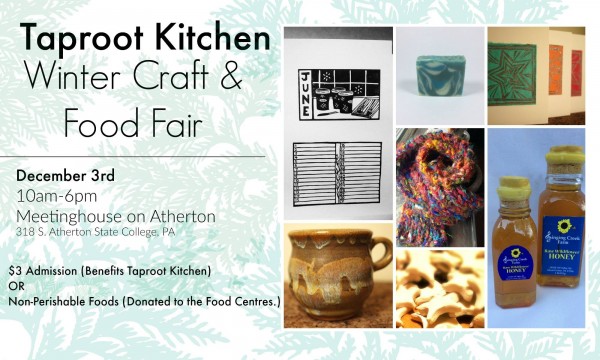 Taproot Kitchen, a nonprofit organization that brings adults with intellectual or developmental disabilities together to cook local food and socialize, will be holding a Winter Craft and Local Food Fair on Saturday, Dec. 3, from 10:00 a.m. to 6:00 p.m. at the Meetinghouse on Atherton, located at 318 S. Atherton St. in State College.
The event will feature a variety of holiday gift ideas and local food. The crafts on sale will include handmade, locally sourced ceramics, wood block prints, hand-knit clothing, baby toys and mobiles, holiday ornaments and cards, specialty foods, and more.
Vendors at the event include Owl & Turtle Press, Zaino Farm, Singing Creek Farm, QuietBuzzing Studio, smb designs, Diana Griffith, Bricks 4 Kidz, Usborne Children's Books, Middle Spring Soap Co., Taproot Kitchen, and more.
Taproot Kitchen will be featuring homemade, locally-sourced soups and Italian beef in convenient to go containers. There is a $3 admission which benefits Taproot Kitchen, or you can bring non-perishable food for donation.
Author: Jamie Oberdick
Bio: Editor, Local Food Journey | Passionate about supporting local food in Central PA