Posted by Emily Wiley on 06/01, 2012 at 01:14 PM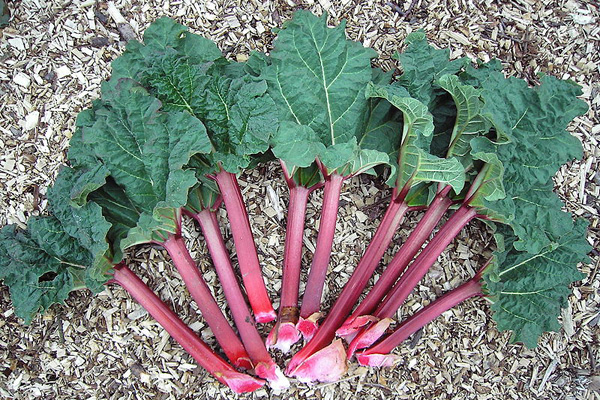 This month we selected three winners for our monthly recipe contest. Congratulations Ruth Nissly, Anne Trout, and Terri Lukens-Gable. You are the recipients of a pound of rhubarb from Jade Family Farm!
Continue reading to see recipes for rhubarb sorrel crisp, banana rhubarb pie, rhubarb torte, and more. And check back early next week for our June recipe contest!
(1) Terri Lukens-Gable, State College
Beltane Rhubarb Cake
Since May Day in 1996 when my friend Vicky shared it with me, we have been making this recipe for our annual celebration. As many as two dozen to just the two of us annually put up our May Pole and enjoy a spring feast that includes this cake.
The biggest change this year wasn't the number of folks attending but finally adapting the recipe to be vegan. It was my first cake with Ener-G egg replacer, and I was really pleased at how it turned out. It may be just a little more crumbly, but the essentials are all still intact. It is still a moist and flavorful cake.
Cake
1 1/2 cup brown sugar
1/2 cup Earth Balance buttery sticks
1 portion Ener-G egg replacer (hydrated)
2 cup flour
1 tsp baking soda
1/2 tsp salt
1 cup Tofutti Sour Supreme
2 cups rhubarb cut into 1/2-inch pieces
Topping
1/2 cup sugar
1 Tbsp Earth Balance buttery sticks
1/2 cup chopped nuts
1 tsp cinnamon
Mix topping ingredients until crumbly and set aside. Cream brown sugar, Earth Balance, and egg replacer. Stir flour, baking soda, and salt together and add to creamed mixture alternately with Sour Supreme. Stir in rhubarb and pour batter into 13x9x2" pan that has been greased and floured. Sprinkle with topping and bake at 350°F for 45-50 minutes.
(2) Anne Trout, State College
Banana Rhubarb Pie
unbaked pie shell
3 cups rhubarb, cut into 1/2-inch segments
1 banana
3/4 cups sugar
2 eggs, beaten
milk
Pour sugar over the rhubarb and let it sit for 2 hours to overnight. Liquid will come out of the rhubarb.
Spoon the rhubarb out of the liquid into the pie shell. Add the eggs to the liquid and add enough milk to make 2 cups liquid total. Pour liquid into the pie shell with the rhubarb. Slice banana on top. Spoon a little liquid over each banana slice.
Bake at 425°F for 15 minutes. Reduce the heat to 350°F and bake another 35 to 45 minutes, until a knife comes out clean. Cool and enjoy.
(3) Jeffrey B. Long, Howard
Rhubarb Upside Down Cake
1 box yellow cake mix
5 cups diced rhubarb
1 (3oz) package strawberry jello
1 cup sugar
2 cups mini marshmallows
In a bowl, mix rhubarb, jello, sugar, and marshmallows. Place mixture evenly into a well grease 13 x 9 cake pan. Mix cake mix as directed on the box. Pour over the rhubarb and bake at 350°F for 45 to 60 minutes. Let cool for 5 minutes and invert onto a serving tray. Serve with ice cream or whipped cream.
(4) Jeffrey B. Long, Howard
Easy Rhubarb Pie
2 cups diced rhubarb
2 eggs
2 cups sugar
2 cups fresh bread cubes (white)
Mix everything together. Place in unbaked pie shell. Bake at 350°F for 45 to 60 minutes.
(5) Barry Krazalkovich, Flinton
Strawberry Rhubarb Pie
Pie Crust
1 double 9-inch pie crust
2 cups flour
2/3 cup shortening
1 tsp salt
6 Tbsp ice cold club soda
Mix flour and salt together with a fork; cut in shortening until the mixture looks like oatmeal. Add water divide, and divide into two equal rounds. Wrap in wax paper or plastic wrap. Leave rest 5-10 minutes. Press one crust into prepared pie pan and reserve the second for on top.
Filling
2 cups rhubarb, chopped into 1/2-inch chunks
2 cups strawberries, sliced
2/3 cup sugar
3 Tbsp small pearl instant tapioca
a little bit of orange or lemon zest
a few shakes of ground cinnamon
Combine all ingredients in a bowl and scoop into pie crust. Top with remaining crust; sprinkle with sugar and vent. Bake at 400°F for 45-55 minutes.
(6) Christie Brown, Spruce Creek
Rhubarb Crisp
Crisp
1 cup whole wheat flour
1 cup quick oats
3/4 cup brown sugar
1 tsp cinnamon
1/2 cup melted butter
Cut butter into dry ingredients until the crumb consistency is achieved.
Filling
4 cups diced/chopped rhubarb
Syrup
1 cup water
4 tsp cornstarch
3/4 cup white sugar
Boil until thickened. Let cool and add 1 teaspoon vanilla.
In pie pan, pat 1/2 of the crisp into the bottom of the pie pan. Add the rhubarb and drizzle the syrup over the two. Finally, add the other 1/2 of the crisp to the top of the pie. Bake at 350°F for 40 minutes to 1 hour. Serve warm with vanilla ice cream or whipped cream.
(7) Dave Whitman, State College
Rhubarb Torte
Crust
1 cup flour
5 Tbsp confectioners sugar
1 stick butter
Filling
3 eggs
1 1/4 cup sugar
1/4 tsp salt
1/4 cup flour
3/4 tsp baking powder
1 tsp vanilla
2 1/2 cups rhubarb, chopped
Combine flour and confectioner's sugar. Cut in butter. Press into 11-inch torte pan and bake 12 minutes at 350°F.
Beat eggs with sugar. Add salt, flour, baking powder, vanilla, and chopped rhubarb. Pour into crust. Bake 30 minutes at 350°F.
(8) Ruth Nissly, State College
Rhubarb Sorrel Crisp
This recipe is from Simply in Season by Mary Beth Lind and Cathleen Hockman-Wert, which is hands-down my favorite cookbook
Serves 12.
4 cups rhubarb (chopped)
2 cups sorrel (chopped)
1 cup sugar
1 Tbsp orange peel, grated
1 tsp vanilla
1/4 cup cold water
3 Tbsp cornstarch
1 1/2 cups flour
1 1/2 cups rolled oats
3/4 cup brown sugar
3/4 cup butter
1/2 tsp salt
1/2 tsp ground cinnamon
Combine rhubarb, sorrel, sugar, orange peel, and vanilla in large saucepan. Bring to a boil over medium-high heat, then reduce to medium and cook 4 minutes, stirring frequently.
In a small bowl, dissolve cornstarch in cold water. Add slowly to rhubarb mixture and cook until thickened, stirring constantly. Set aside.
In a separate bowl, mix together remaining ingredients until crumbly; using a pastry cutter or fork helps. Place about 3 1/2 cups of the mixture on the bottom of a greased 9×13 pan. Cover with the rhubarb/sorrel mixture. Sprinkle remaining crumb mixture on top and bake in a preheated oven at 350°F for 30-40 minutes.
Winners were chosen using a random number generator. Congratulations!

Author: Emily Wiley
Bio: WPSU Multimedia Producer | Wife and Mother | Lover of Food and Photography | One-Half of The Culinary Couple