Posted by Emily Wiley on 09/01, 2011 at 04:38 PM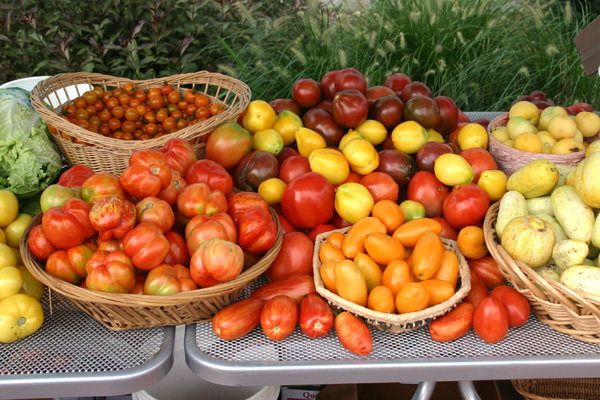 Wow! We had a lot of submissions for this month's tomato recipe contest. Thanks to everyone who participated! And congratulations to winner Mary Gage of State College for her Green Tomato Chutney. She is the recipient of a $25 gift certificate to Elk Creek Cafe + Aleworks in Millheim.
Continue reading to see all of the submitted recipes—from tomato cakes to tomato tarts to tomato bread pudding. Enjoy!
(1) Ashley, State College
"What To Do With All These Tomatoes" Casserole
several tomatoes
1 large zucchini
a few cloves of garlic
a few sprigs of oregano
feta cheese
salt and pepper
Slice tomatoes and zucchini in rounds about 1/4 inch thick. You should have a large plate piled high with equal amounts of the two veggies. Prepare a 9" round oven-proof pan by greasing with a bit of olive oil.
Now begin the layering. Cover the bottom surface with 1 layer of zucchini. Season with salt and pepper, then add 1/4 of the garlic. On top of this, add a layer of tomatoes. Season with salt and pepper, then add 1/4 the garlic and 1/2 the oregano. Add 1/2 the feta cheese. Repeat the layering of zucchini (salt, pepper, garlic) and tomato (salt, pepper, garlic, oregano). Top with the remaining feta cheese. Sprinkle with olive oil and bake for about 40 minutes at 375 F, or until bubbly.
Broil for a few minutes to brown the cheese. Serve with rice to soak up all the wonderful tomato and zucchini juices.
(2) Michelle Casey, Saint Marys
Tomato Soup
1 quart ripe tomatoes
1 medium sized onion
1 rib of celery
1 sprig of parsley
1 bay leaf
1 Tbsp flour
1 Tbsp butter
1 tsp salt
1/2 Tbsp sugar
2 tsp gr black pepper
Wash and cut tomatoes. Chop onion, celery, parsley, and bay leaf. Add to tomatoes; cook in saucepan over medium heat until celery is tender. Put through sieve. Return to saucepan and bring to a boil. Rub flour and butter into smooth paste thinned with tomato puree. Add to boiling soup; stir to prevent scorching. Add salt, sugar, and pepper. Reduce heat and simmer 10 minutes. For smoother consistency put through sieve again. Serve when heated through.
(3) Diana Malcom, State College
Rustic Tomato-Basil Tart
1.5 lbs yellow tomatoes, cut into 1/4" thick slices
1.5 lbs red tomatoes, cut into 1/4" thick slices
1 cup fresh corn kernels (about 2 ears)
1 T fresh lemon juice
3 T sour cream
1.5 cups all-purpose flour
1/4 cup yellow cornmeal
1/4 cup chilled butter, cut into small pieces
1 T yellow cornmeal
1/2 cup thinly sliced fresh basil (divided)
1 cup sliced fresh or grated mozzarella
1 T chopped fresh oregano
2 T all-purpose flour
1/4 t cracked black pepper
Arrange tomato slices in single layer on several layers of paper towels, sprinkle with 1/2 t salt. Let stand 20 minutes, blot dry with paper towels.
Preheat oven to 400 degrees.
Place corn, juice and sour cream in food processor or blender, process until smooth. Combine 1.5 cup flour, 1/4 cup cornmeal, and 1/2 t salt in large bowl; stir with whisk. Cut in butter with a pastry blender until mixture resembles course meal. Add corn mixture, stir until a soft dough forms. Knead gently 3 or 4 times.
Slightly overlap 2 (16") sheets of plastic wrap. Place dough on plastic wrap and press into a 6" circle. With oiled rolling pin, roll dough into a 14" circle. Wrap extra plastic wrap to cover. Place on a large baking sheet in freezer 10 minutes or until plastic wrap is easily removable. Line baking sheet with parchment paper; sprinkle paper with 1 T cornmeal. Remove plastic wrap as you place dough on baking sheet.
Combine 1/4 cup basil, cheese, and oregano. Combine 2 T flour and 1/2 t salt. Arrange cheese mixture on dough, leaving a 1.5" border. Spread/sift flour mixture over cheese mixture. Arrange half of tomatoes over cheese mixture. Sift remaining flour mixture over tomatoes, top with remaining tomatoes. Fold edges of dough toward center, press to seal (dough will only partially cover tomatoes).
Bake at 400 degrees for 35 minutes or until crust is brown; let stand 10 minutes. Spring with 1/4 cup basil and pepper. Makes 6 servings.
(4) Anne Trout
Caprese
Fresh Tomatoes
Fresh Mozzarella Cheese
Fresh Basil Leaves
Olive Oil
Slice tomatoes thinly; slice mozzarella thinly. Put a mozzarella slice on top of the tomato and then a basil leaf on the very top. Make 2 or 3 stacks per person. Drizzle olive oil over each stack. Allow to mellow for 10 to 15 minutes. Then serve (or refrigerate until ready to serve).
(5) Bob Filiaggi, State College
Bob's Simple Tomato and Butter Sauce
1 lb fresh plum tomatoes, chopped
3 Tbsp butter
1 small onion, peeled and cut in half
1/3 cup good dry white wine
Parmigiano-reggiano cheese
Salt and black pepper to taste
Put all ingredients, except the cheese, in a saucepan and simmer over low heat until tomatoes have broken down and the onion is tender – about 20 minutes. Remove pan from heat and discard the onion. Toss with your pasta of choice and top with lots of Parmesan cheese. So simple and so delicious!
(6) Jennifer Moore, State College
Basil and Garlic Tomato Salad Bruschetta
For Tomato Salad:
1/2 dozen red cherry tomatoes
1/2 dozen purple cherry tomatoes (preferably fresh from the farmers market)
3 cloves of fresh garlic
3 stalks of fresh basil
2 tablespoons of balsamic vinegar
2 tablespoons extra-virgin olive oil
1 tablespoon lemon juice
1 pinch oregano
1 pinch rosemary
1 pinch thyme
1 loaf beer bread (preferably homemade, 8"x4" size)
8 oz mozzarella ball (in water is best)
sea salt, to taste
garlic powder, to taste
olive oil, drop-wise
balsamic vinegar, drop-wise
1 pinch dried or fresh oregano or basil (garnish)
Rinse all vegetables and fresh herbs. Chop tomatoes into quarters, and basil leaves into strips. Mince garlic, and combine with tomatoes and basil in a medium bowl. Drizzle olive oil, lemon juice, and balsamic over the mixture, and add remaining spices. Mix well, and leave to marinate in refrigerator for 10 minutes.
Preheat oven to Broil. Meanwhile, slice the beer bread into 1" slices and brush with olive oil, dust with sea salt and garlic powder to taste. Place on cookie sheet and in middle rack of oven – a few minutes and they will be nicely toasted so watch closely.
Remove from oven, plate with 1/2" slice of fresh mozzarella, drizzle a few drops of extra-virgin olive oil and balsamic vinegar onto the mozzarella. Remove tomato salad from refrigerator and serve on the side to avoid the bread becoming soggy. Garnish with fresh or dried oregano and basil. Heap tomato salad mixture on top of the bread and mozzarella bed, and enjoy!
(7) Nick, State College
Basil Cherry Tomatoes
1 pint cherry tomatoes, washed and stems removed
1 large clove garlic, minced
3 tablespoons olive oil
1 tablespoon dried sweet basil leaves, or twice as much fresh
A few drops vinegar (balsamic, cider, wine, or rice)
Place all ingredients in a container and toss gently to mix. Cover tightly and refrigerate overnight.
(8) Aaron Spak, State College
Tomato Pasta Toss
Toss the following together in a non-reactive bowl and allow to marinate several hours at room temperature.
chopped tomatoes
chopped basil
extra-virgin olive oil
sprinkle of sea salt
a few cloves of garlic, minced
diced green pepper
pecorino
Toss with cooked pasta or spoon onto bread. Enjoy!
(9) Mary Ann Smith, Huntingdon
Green Tomato Cakes from Kathy Kauffman
3 green tomatoes
1 onion
1 green pepper
4 pieces celery
1/2 bag baby carrots
2 eggs
Ritz cracker crumbs
In a chopper or food processor, grind all vegetables to chunky pulp. Drain off all excess liquid. Add 1 beaten egg and crushed Ritz crackers crumbs to mixture until you are able to form patties. Brown in a skillet over medium heat. Make them as brown or crispy as you like. Can be reheated, or the mix can be stored in the refrigerator and made when desired. (Add extra breadcrumbs or panko before frying if still too wet).
(10) Carrie Lyons, State College
Oven Roasted Cherry Tomatoes
When I taste these tomatoes, I feel like I'm tasting concentrated sunshine. There is nothing subtle about the flavors here. The sweet, tart flavors of the tomato are very intense, nicely complimented by the thyme. The garlic and olive oil add richness and depth. Basically it feels like sunlight dancing on your tongue.
1 quart (2 pints) ripe Cherry Tomatoes (I prefer Sun Gold for sweetness), cut in half or whole
2 cloves garlic, chopped fine or pressed
2 Tbsp fresh thyme, minced
1/2 cup extra-virgin olive oil
Salt and pepper to taste
Preheat the oven to 400 F. Put the sliced tomatoes cut side up on a rimmed baking sheet (or roast whole). Sprinkle with salt and pepper, pressed garlic, and minced thyme. Drizzle the olive oil over all the tomatoes.
Place the tomatoes on the baking sheet in the top rack of the oven and roast for 30 minutes or until soft and brown around the edges. There should not be much juice left in the pan, just delicious flavored oil. Serve the tomatoes hot or at room temperature. The oil can be reserved and used in dressings or for drizzling over some good crusty bread (preferably from Gemelli Bakery!). The tomatoes can also be frozen and used to make sauce in the dead of winter. These tomatoes can raise your spirits even in the dark and cold.
(11) Mary and John Nousek, Boalsburg
Stewed Tomatoes
We like to make stewed tomatoes when our home grown ones begin to get spotty or slightly damaged.
Simmer together:
6-8 medium red or green tomatoes, skinned and hand squeezed to remove seeds (scale all other ingredients to amount of tomatoes and taste)
1-2 crushed garlic cloves
1 Tbsp red or white minced onion
1/2 cup chopped celery
chopped savoy celery to taste
1 tsp fresh rosemary
chopped chives to taste
3/4 tsp salt
1/4 tsp paprika
2 tsp raw or white sugar
ground cloves to taste
(other possible additions: parsley, fresh basil or cilantro, 1/8 tsp curry, fresh okra – blanched whole then sliced)
Top, if desired, with buttered breadcrumbs or croutons.
(12) Mary Gage, State College
Green Tomato Chutney
2 1/2 cups white vinegar
2 cups sugar
1 large, smooth skinned lime
3 1/2 lbs green tomatoes, coarsely chopped if large, cut into wedges if small
1 3/4 lbs apples, peeled, cored, and coarsely chopped
1/2 lb shallots, minced
10 oz white raisins
1/4 lb candied ginger, cut in small dice
3 Tbsp yellow mustard seeds
2 tsp salt
Put the vinegar and sugar in a large saucepan. Halve the lime and squeeze in the juice.
Remove the stringiest central part of the lime shell, then cut the rest – pulp, pith, and all – into matchsticks. Dump them in a large pot of boiling water, turn off the heat, and let them sit for 2 minutes. Drain.
Put the lime sticks in a very small deep pan, cover with an inch or so of water and simmer over low heat until they're soft enough to be cut with the edge of a fork – this may take 15 or 20 minutes; lime rind is tough. Drain and rinse.
Add the lime to the saucepan with everything else and cook over low heat, stirring frequently, until tomatoes and apples fall apart and the chutney is thick.
Cool a spoonful, taste, and add sugar or lime juice as necessary to make a nice balance of sweet and sour.
Store in the refrigerator or can in a boiling water bath.
Delicious with cheddar cheese or cold meats on fresh bread!
(13) Kristal Watrous, State College
Summer Spaghetti with Uncooked Tomatoes and Herbs
2-3 pounds ripe tomatoes, chopped (1/4" to 1/2" diced), preferably mixed colors, flavors, and textures
2 garlic cloves, finely minced
1/2 cup packed mixed chopped fresh herbs (oregano, mixed basils, mint, anise hyssop, parsley, etc.)
1/2 cup extra-virgin olive oil
salt and freshly ground pepper to taste
1 pound spaghetti or linguine
Place the tomatoes in a large pasta bowl with all of their juices. Add the garlic, herbs, and oil. Season with salt and generously with pepper. Mix well, taste, and adjust seasoning. Let sit while cooking the pasta. Bring a large pot of water to a boil. Add one tablespoon of salt and spaghetti. Stir and cook uncovered over high heat until pasta is tender, but still firm to the bite. Drain the pasta, add it to the bowl with the sauce, and mix well. Taste, adjust seasoning, and serve drizzled with fresh olive oil (optional).
(14) Martha Freeman, State College
Tomato Tart
One pie crust (cut 1 cup salted butter into 2 cups flour + 1 tsp sugar and 1/2 tsp salt, mix to form dough with scant 1/3 cup ice water)
3 Tbsp mustard
3 lbs cored tomatoes sliced thin
1 cup Gruyere
Herbes de provence
Roll out pie crust into 8x10 sheet pan, prick with fork and add weights. Bake 10-15 minutes, remove weights, and bake another 15 minutes until brown. Let cool to room temperature. Meanwhile, put sliced tomatoes in a colander to drain for at least 20 minutes. (Reserve tomato liquid for soup or sauce!) Spread mustard in a thin layer over crust and sprinkle cheese over mustard. Then arrange tomatoes in an overlapping layer on top and sprinkle on the herbs. Bake at 400 for 20-25 minutes until tomatoes shrivel. Let rest a few minutes before serving.
(15) MJ Stout, State College
Summer Tomato Pie
Bake one pie crust, either homemade or a Pillsbury unrolled one.
Add to pie shell:
6-8 ripe fresh tomatoes, sliced
1 cup chopped or thinly sliced basil leaves
Top with:
Salt and pepper
Slices of sweet onion (optional)
Chopped green onions or chives
Combine 1 cup mayo and 2/3 to 3/4 cup shredded sharp cheddar and spread over tomato mixture. Bake at 375 until topping is golden brown, about 40 minutes. Great as a side dish for dinner or brunch or a stand alone lunch.
This is a modification of a recipe from Middleton Plantation in South Carolina.
(16) Karen Tzilkowski, Petersburg
Phyllis' Green Tomatoes
Step One: Thinly slice green tomatoes (10 small or 5-7 large ones). Soak the tomatoes for 4 hours in 1 cup of salt mixed with 3 quarts of water.
Step Two: Prepare jars. For a 16 oz. jar, use 3 cloves of garlic and a large pinch of oregano.
Step Three: Squeeze out all the water from the tomatoes and fill the jars very loosely with the tomatoes.
Step Four: Mix equal amounts of white vinegar and oil (half canola oil and half olive oil).
Step Five: Add this mixture to each jar to cover tomatoes. Turn jars over to disperse the oregano and garlic. Refrigerate and marinate for several days. When tomatoes lose their bright green color and turn yellowish green, they can be frozen.
Serve on thin slices of baguette or on crackers as a tasty appetizer.
(17) Willa Adams, Boalsburg
Simply Wonderful Summer Pasta
Serves 6.
4 large ripe tomatoes
4 large cloves of garlic, crushed
8 large basil leaves, slivered
2 tsp salt
2/3 cup fruity, extra-virgin olive oil
1 lb perciatelli
Freshly grated Parmesan cheese (if desired) for serving
Core and coarsely chop tomatoes (about 1/2 inches). Slide tomatoes and all of the juice into a large bowl. Add garlic, half of the basil, and salt to the tomatoes. Stir in oil. Cover and let stand at room temperature for 8 to 10 hours, stir occasionally. If making the night before, the fresh sauce can be covered and stored in the refrigerator. Just remove from refrigerator at least four hours before serving so it can warm up to room temperature.
When ready to serve, cook pasta in a large pot of salted water for 10 to 12 minutes, until al dente. Drain pasta, reserving 1/3 cup of the cooking water. Return pasta to the pot and toss with reserved water.
Divide pasta among six shallow bowls. Remove garlic from the fresh sauce, if desired, and ladle sauce over the pasta. Sprinkle with the remaining silvered basil. Serve immediately with extra grated Parmesan, if desired.
(18) Jean Dietrich, State College
Spaghetti with Spinach, Tomatoes, and Goat Cheese
Makes 4 servings.
3/4 pound of spaghetti
1/4 cup olive oil
2 garlic cloves, thinly sliced
Pinch of crushed red pepper
1 cup grape tomatoes, halved
Salt and pepper
8 cups baby spinach (7oz)
1/4 cup grated pecorino cheese, plus more for serving
1 cup crumbled goat cheese (4oz)
Cook spaghetti until al dente. Drain. Reserve 1/2 cup pasta cooking water.
In a large skillet, heat olive oil. Add the garlic and crushed red pepper and cook over moderate heat until the garlic is tender, about 3 minutes. Add the tomatoes, season with salt and pepper, and cook over moderately high heat until the tomatoes begin to release their juices, about 2 minutes. Add the spinach and cook until wilted, about 2 minutes.
Add the spaghetti, the reserved 1/2 cup of pasta cooking water and the 1/4 cup of pecorino to the skillet and toss over low heat until the pasta is coated with the sauce. Season with salt and pepper. Add the goat cheese and toss gently. Transfer the spaghetti to shallow bowls and serve, passing additional grated pecorino cheese at the table.
(19) Laura Orczeck, Roaring Spring
Tomato Bread Pudding
1 1/2 loaves (about 12oz) French or Italian bread, cut into 3/4-inch slices
1 1/2 cups milk
1 1/4 cups half and half
1 cup heavy whipping cream
3 eggs, lightly beaten
2 Tbsp chopped fresh parsley
1 tsp chopped fresh thyme
2 cups shredded Monterey Jack cheese (8oz)
3 cups diced fresh tomatoes (about 1 1/2 lbs)
1 cups grated Parmesan cheese (3oz)
Heat oven to 350 degrees F. Butter a 13x9-inch baking dish; set aside. Arrange bread on cookie sheet in a single layer; bake until lightly toasted, 5-8 minutes.
In a large bowl, combine milk, half and half, cream and eggs. In a cup, combine parsley and thyme. Cover the bottom of the prepared dish with half the toasted bread. Top with half of the Monterey Jack cheese, half of the Parmesan, and half of the herbs. Cover with half of the milk mixture and half of the tomatoes. Repeat layering.
With a spatula, press bread down to cover with milk mixture. Let stand for 5 minutes. Bake until knife inserted in the center comes out clean, 40 to 50 minutes. Cool slightly before serving.
(20) Angela Smith, Centre Hall
Too Many Cherry Tomatoes – Oh My!
This what to do when the amount of cherry tomatoes gets excessive, and you have run out of enthusiasm for salad.
Preheat oven to 400 degrees. Wash and stem cherry tomatoes. Place on a large rimmed baking sheet. Peel and thinly slice a large onion into rings; arrange over tomatoes. Peel and separate a garlic bulb, arranging cloves among tomatoes. Add any fresh or dried herbs you like – oregano and basil are nice choices. Drizzle everything generously with olive oil and balsamic vinegar. Roast until cherry tomatoes pop. Serve this caramelized smokey sweet goodness over pasta, with cheese on crackers, on grilled bread, your fingers ... use your imagination. Keeps well in the fridge in a tightly sealed container. Great hot ,warm, or cold.
(21) Darcy Gustafson, State College
Roasted Tomato and Garlic Soup
This vegan recipe is a grown-up version of the soup you enjoyed as a child. It is creamy and flavorful and just right for adults. Since the summer tomato harvest is ready now, this is a perfect soup to make in large batches and freeze for the winter.
Preheat oven to 350 degrees.
Roast Tomatoes and Garlic:
8 standard tomatoes with tops removed and any hard green parts removed
8 peeled garlic cloves
Rub tomatoes and garlic with olive oil. Place vegetables in roasting pan. Roast for 60 minutes (checking garlic to ensure that it doesn't brown too much). Remove from oven.
Prepare Soup:
2 tablespoons olive oil
1 large onion, cut into medium dice
1 stalk celery, cut in to medium slice
1 large carrot, cut in medium dice
5 cups vegetable stock (low sodium is best)
1/4 cup Arborio rice
1/2 teaspoon sea salt
1 teaspoon dry oregano
1 teaspoon dry basil
Roasted tomatoes and garlic (see above)
Heat oil in medium pot and add onions and salt; stir frequently so onions don't brown. Add carrots, celery, oregano and basil. Cook over low heat (approximately 5-6 minutes). Continue stirring to prevent browning. Add vegetable stock, Arborio rice and roasted tomatoes and garlic. Bring soup to a boil over high heat. Immediately reduce to low heat and allow soup to simmer until all vegetables are soft. Press soup through a strainer to remove tomato skins and return to pan. Blend soup until creamy. (Use an immersion blender in the pan or blend soup in batches in a traditional blender.) Warm to serve. Garnish with fresh minced herbs if desired.
(22) Samara Norman, Bellefonte
Slow Roasted Tomatoes
Use Roma Tomatoes, Cherries, Sun Golds, Pear Tomatoes, etc. Just be sure to sort tomatoes by type and size, as their cooking times will vary.
Your choice of tomatoes (I make two sheet trays worth at a time)
1 small head of garlic, thinly sliced (I like a lot, but this is to your taste, so feel free to reduce)
1/3 cup extra-virgin olive oil
2 Tbsp balsamic vinegar
1 Tbsp herbes de provence (optional)
Salt and pepper to taste
Preheat oven to 250°F. Slice tomatoes in half lengthwise. Set aside. In a large bowl, combine remaining ingredients. Gently toss tomatoes in dressing. Arrange tomatoes cut side up on large sheet trays. Spoon remaining dressing on top of tomatoes. Place in oven; cook until shriveled and reduced in size, 2-5 hours, depending on size of tomatoes and desired doneness. Check periodically after first two hours. Enjoy on pasta or as a side dish.
(23) Terri Peterson, Lewisburg
Pasta with Fresh Tomato Sauce
3 lbs tomatoes
1/2 cup fresh basil, divided
2-3 garlic cloves (depending on taste)
2 teaspoons fresh thyme (or 1 dried)
Extra-virgin olive oil (and it does have to be decent quality extra-virgin, as the flavor really comes into play in this dish)
1 lb pasta, preferably linguine
Salt and pepper to taste
Parmigiano-Reggiano (optional)
Cut X's in the bottom of the tomatoes, and drop them into a pot of boiling water for 30 seconds to blanch and loosen skins. Peel the tomatoes, cut in quarters to seed, and then chop into quarter-inch pieces. Take half the basil and cut into a chiffonade (stack the leaves and cut into ribbons); put tomatoes and basil into a bowl with some olive oil (about 2 tablespoons) and a healthy pinch of salt. Let sit for a half-hour.
At the end of the half-hour, make sure your water is boiling and ready for pasta, or that your pasta is close to ready, as the sauce won't take very long to prepare at this point.
Crack (don't chop) the garlic and mince the thyme if it's fresh. Put some more olive oil (maybe another 2 tablespoons, enough to really make sure the flavor of the olive oil will come through in the final dish) in a large pan, and put in the thyme and cracked garlic. The garlic will start to brown very quickly, so pay attention, as it can go from golden to burnt within seconds. When the garlic is nice and golden, pull it out, chop it, and set it aside. Pour the tomato mixture into the pan, and put in some salt and pepper (to taste). Get it to a steady simmer, and let it cook for about five minutes. Chiffonade the remaining basil, drain the pasta, and mix them and the chopped garlic in with the tomatoes. Adjust the seasonings, top with grated Parmigiano-Reggiano (if desired) and serve. Perfect with grilled veggies and crusty bread.
(24) Carrie Shafer, Huntingdon
Mexican Chicken
For the Mexican Salad:
1 large tomato
16 oz of corn – fresh, canned, or frozen
16 oz of black beans – canned
Fresh cilantro – chopped or torn
*1/4 cup olive oil
*1/2 cup red wine vinegar
*Crushed chili peppers, onion powder, and garlic salt to taste
Combine salad ingredients, and let sit for a couple hours to marinate.
*Red Wine Vinaigrette Salad Dressing can be substituted for oil, vinegar, and spices. I also use Mrs. Dash Southwest Chipotle Blend in place of the separate spices.
For the Mexican Chicken:
Boneless, skinless chicken breasts (1 piece/person) – chopped into chunks
Rice – follow amount per servings
Combine all ingredients, including Mexican Salad, into slow cooker or crock-pot. Cook on medium for 1 hour until rice and chicken are done.
Add chopped green peppers and chopped onions to taste.
The winner was chosen using a random number generator. Congratulations, Mary!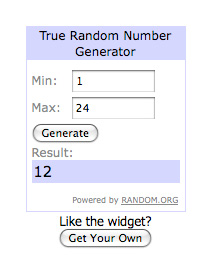 Author: Emily Wiley
Bio: WPSU Multimedia Producer | Wife and Mother | Lover of Food and Photography | One-Half of The Culinary Couple