Posted by Local Food Journey on 10/03, 2011 at 11:21 AM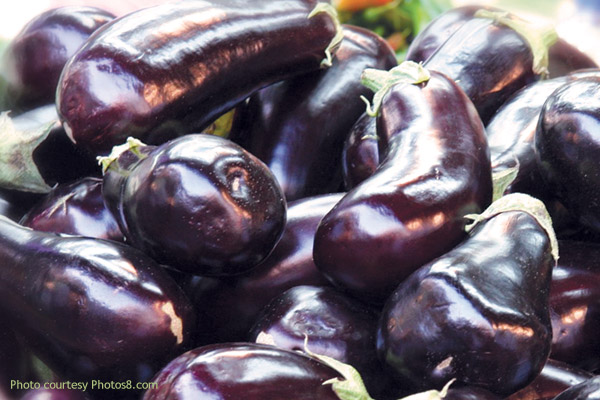 Thanks to everyone who participated in this month's eggplant recipe contest! Congratulations to Albert of State College and his Lavash Flatbread recipe. He is the recipient of a $25 gift certificate to Mount Nittany Winery in Centre Hall.
Continue reading to see all of the submitted recipes. Enjoy!
(1) Eileen, State College
Vegetable Curry
1 1/2 C basmati or jasmine rice
2 TBS extra virgin olive oil
1 medium to large eggplant half-peeled, cut to 1" cubes
1 large onion, chopped
1 large red bell pepper, diced
4 cloves garlic, chopped or grated
2 TBS tomato paste
1 1/2 C vegetable broth
3 rounded tsp mild red curry paste or powder
1 can chickpeas, drained
1/3 C mango chutney
1/4 tsp salt
handful chopped cilantro (optional, but good)
1/4 C sliced slivered almonds, lightly toasted (carefully!)
3 thinly sliced scallions
Add oil to hot skillet; add eggplant, onion, pepper. Cover & cook 6-8 minutes, stirring occasionally. Add garlic & tomato paste; cook 1 minute. Add broth, curry paste, chickpeas, mango chutney, salt. Simmer 1 to 2 minutes; remove from heat; stir in cilantro and almonds; sprinkle scallions on top. Serve over rice and with naan bread (optional)
(2) Anna, State College
Eggplant "caviar"
This is a very popular recipe in Russia for everyday meal or holiday feast. Can be preserved for latter in jars (will require longer time of cooking). Can be eaten hot or cold, as a spagetti souce or proccesed in blender and used as a sread on bread or a dip. Use your immagination.
2 lb of eggplant
4 ripe tomatoes ( can be substituted by can of diced tomatoes)
2 peppers
1 medium onion
1 large carrot
salt,hot pepper, garlic to your taste
1 tbs sugar
1 tbs vinegar ( balsamic will give some additional taste )
olive oil
Start with frying onions and graded carrot on medium heat, then add egglant, cut into small chunks 3/4", peppers cut into 1/2" chunks, fry about 10 min , add choped tomatoes and cook more 15-20 min covered on low heat. If it's needed add some water. Add some salt, pepper, sugar and vinegar ,stir well and cook for couple min more. In the very end add crushed garlic to your taste, stir and take off the heat immediately.
(3) Cynthia, State College
Eggplant Omlette
This is an appetizer, popular in Tunisia, served at room temperature.
2 or 3 eggplants, roasted (takes about 45 minutes at 475), then peeled and chopped fine
2 large onions, chopped
5 tbsp olive oil
4 garlic cloves, crushed
6 large eggs
1/4 cup flat-leaf parsley, coarsely chopped
1 tsp caraway seed, ground in a mortar
1/2 tsp ground coriander
salt and pepper to taste
lemon wedges
Fry the onions in 3 tbsp of oil on low heat till soft and golden. Add the garlic and stir till it is lightly colored. Let cool slightly. Meanwhile beat the eggs lightly. Add the mashed eggplant, the fried onion and garlic, parsley, caraway seed, coriander, salt and pepper. Mix well. Heat the remaining 2 tbsp oil in a large skillet (cast iron works well). Pour in the eggplant mixture, cover the pan, and cook over very low heat about 10 mins till the bottom sets. Then place the pan under a preheated broiler till the top sets up firm and becomes lightly browned. Serve at room temperature, cut into thin wedges and garnished with lemon wedges and parsley.
(4) Ashley, State College
Eggplant and ricotta pizza
1. Prepare your favorite homemade pizza dough. When the dough is about 1 hour from being ready, preheat the oven as high as it goes, probably 500 or 550 degrees F.
2. (optional) Prepare homemade tomato sauce (can also use jarred sauce).
3. Thinly slice 1 or 2 eggplants into rounds, and if they're really big, cut into quarters.
4. Mix ricotta and tomato sauce (homemade or your favorite jarred sauce) until spreadable.
5. When the dough is ready, prepare the pizza: Spread the ricotta/tomato sauce mixture. Add the eggplant slices. Top with mozarella and parmesan.
6. Bake on low rack for about 10 mins, or until the crust is finished on the bottom. If necessary, bake or broil on the top rack until the cheese is bubbly and starting to brown.
(5) Jackie, Hollidaysburg
Untitled
2 large eggplants
1 cup breadcrumbs or 6-8 slices stale bread toasted and cubed
1/2-3/4 cup of shredded mozzarella cheese or
2 eggs, beaten
1 teaspoon garlic salt
1 teaspoon oregano, rubbed between palms
1/2 teaspoon salt
1/2 teaspoon black pepper
1/2 cup olive oil
any type of broth or water, enough to fill pan 1/2 to 3/4 "

Slice eggplant in half and cut each half into 5 or 6 pieces then cut the short way to have many 3/4" cubes of eggplant. Put in a pot with small amount of water or broth. Cover pot and steam (about 10 min) till eggplant is soft. Squeeze out extra fluid and put into large bowl. Add shredded cheeses eggs spices and breadcrumbs or toast squares. Mix all together with hands to form a stiff mixture. If mixture is too loose add more breadcrumbs until mixture becomes able to be formed. Form into patties about the size of a hamburger. Bake at 375 for 15-25 min flipping once or fry in a fry-pan with small amount of olive oil/canola mix (i mix oils 50-50). Serve with a side of sauce. We like to melt slice of mozzarella on top and eat with sauce on a bun.
(6) Sumita, State College
Baigan- Bharta
2 medium-sized firm and yet soft to feel eggplants (preferably purple)
1 medium onion finely diced
3 pods of garlic diced
1 thai chilly finely diced
1 large tomato finely diced
1/2 spoon garam masala (available from Indian grocery store)
1/4 teaspoon grated fresh ginger
3/4 teaspoon lime juice
1.5 tablespoon canola or olive oil
salt to taste
Roast the eggplant on an open fire (e.g. gas burner) until the skin is charred all over. Let it cool. Peel off the skin and discard. Dice the softened cooked eggplant very fine and set aside.
In a heavy bottom saucepan add the oil and when hot add the diced onion, garlic and green chilly. Fry until golden brown. Add the tomato and fry until soft. Add the diced eggplant and salt and cover the pan with a lid. Let it cook for about 20 minutes on low heat, stirring occasionally. When most of the liquid has dried up, add the garam masala, ginger and lime and mix well.
Goes well with naan bread.
(7) Barb, PA Furnance
Eggplant Caviar
1 large eggplant, peeled and cut into small pieces
4 T. olive oil
1 c. chopped onion
3 large cloves garlic
1 c. chopped celery
1 14 oz. can diced tomatoes, drained
1 T. capers
1/4 c. red wine vinegar
2 T. sugar
salt and pepper to taste
Saute eggplant in oil until soft and lightly browned. Remove eggplant. Saute onion, garlic, and celery until tender in remaining oil. Add tomatoes and simmer, covered, for 15 min. Return eggplant to pan. Add capers, vinegar, sugar, salt and pepper. Cover and simmer 20 min. Cool then serve with sliced french bread. Excellent served over pasta as well. This also freezes well.
(8) Dolores, Mayburg
Roasted/Grilled Eggplant
Rinse eggplant.
Cut eggplant lengthwise into wedges, subcut into 3"-4" lengths.
If cooking on grill, place wedges on a grilling basket or aluminum foil. If roasting in the oven, place wedges on a foil lined cookie sheet,
Spritz wedges with olive oil,( cooking spray works nicely).
Generously dust wedges with freshly grated parmesan cheese.
Place pan in 350 degree oven or on medium hot grill, heat, monitoring progress till eggplant is softened and lightly browned.
(9) Albert, State College
Lavash Flatbread
1 large eggplant, diced into 1/2 inch cubes
sea salt and freshly ground pepper, to taste
extra virgin olive oil
4 whole sheets of fresh whole wheat lavash
1 cup of cherry tomatoes, halved
1/3 cup of thinly sliced green onion
1/3 cup of roughly chopped basil
1/2 cup of grated mozzarella (use a box grater to coarsly grate it)
1/4 cup of grated Parmesan
red pepper flakes, to taste
4 cups of arugula
1 tablespoon of freshly-squeezed lemon juice
1. Preheat your oven to 450 degrees F. Season the eggplant with salt and pepper and toss it with a tablespoon or so of olive oil. Spread it out on a lined, rimmed baking sheet and roast, tossing occassionally for about 10-15 minutes (until it's golden brown and tender).
2. Place the sheets of lavash on two baking sheets (wait until the eggplant is done if you don't have 3 baking sheets, or bake the flatbreads one by one, transfering them to cutting boards once they are out of the oven).
3. Brush the lavash evenly with oil. Top with cheese, tomatoes, eggplant, and herbs. Season with salt and pepper and bake for about 5 minutes, watching it so as to not burn the edges.
4. Combine the arugula, 1/2 tablespoon of oil, and lemon juice in a large bowl. Season with salt and pepper.
5. Top the baked flatbreads with the arugula and slice them using a pizza cutter.
The winner was chosen using a random number generator. Congratulations, Albert!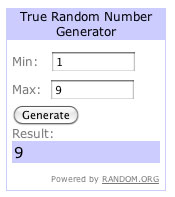 Author: Local Food Journey
Bio: An exploration of what it means to eat local