Posted by Emily Wiley on 06/01, 2011 at 12:57 PM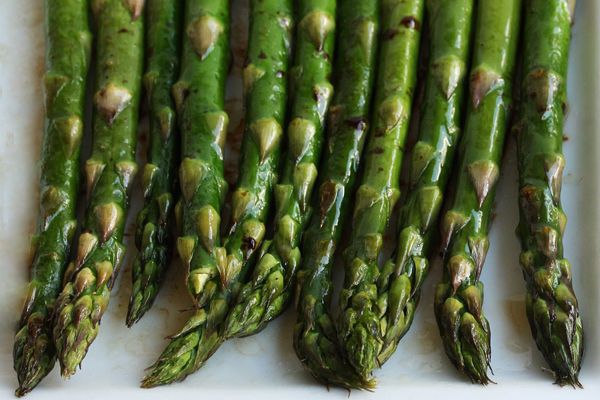 Congratulations to Destiny Aman of Pennsylvania Furnace! She is the winner of our May asparagus recipe contest and the recipient of a $25 gift certificate to Tait Farm Foods.
Thank you to everyone who participated—continue reading to see all of the asparagus recipe submissions. And stay tuned for the start of our June recipe contest. Details to come!
(1) Debbie Lambert, State College
Steamed Asparagus with Sesame Seed Oil
- 1 lb asparagus
- sesame seed oil
- sesame seeds
Wash and break off the ends of asparagus stalks. Steam for 10-15 minutes (on low heat) standing up in an asparagus cooker. Drizzle sesame seed oil and toasted sesame seeds over stalks and serve as a side dish.
(2) Paul Demmert, Julian
Grilled Asparagus
- 1 lb asparagus spears
- 4 teaspoons olive oil
- dash of kosher salt
- dash of lemon pepper seasoning
- 1 teaspoon balsamic vinegar (or lemon juice)
- 1/4 cup grated cheese
Add salt and seasoning to olive oil. Trim bases of the spears to remove tough, woody sections—until a sharp knife cuts easily through the spear. Place spears on wax paper and pour oil with seasoning on top. Roll spears until they are completely coated with oil. Place spears on an aluminum foil covered flat sheet and preheat your toaster oven to 450 degrees (Broil setting). Add asparagus to the oven; broil for about 5 minutes until top edges of spears begin to brown. Turn spears about 1/4 turn, wait, and repeat every 2 minutes, until spears have made the full turn. Remove and put grilled spears on a plate, drizzle with balsamic vinegar (or lemon juice) and add grated cheese. (You can also grill spears on the BBQ. Just make sure to use aluminum foil to protect the spears from direct heat. Turn spears every 2 minutes (or sooner) until all sides show the brown carmelizing color change.)
(3) Betsy Gamble, State College
Steamed Asparagus
- asparagus spears
- butter
- lemon juice
- dried oregano
- dried basil
Steam asparagus spears just until tender. Add butter and a squeeze of lemon juice and about a teaspoon of fresh or dried oregano and basil per pound of asparagus, to taste.
(4) Ashley, State College
Grilled Asparagus and Portobello Mushrooms over Polenta
- 1 bunch asparagus
- olive oil
- salt and pepper
- arlic powder
- 2 Portobello mushrooms
- 1/2 cup balsamic vinegar
- 1 tablespoon brown sugar
- polenta or grains for serving
Trim ends of asparagus. Drizzle with olive oil; season with salt, pepper, and garlic powder. Throw on the grill along with Portobello mushrooms. Cook 3-5 minutes per side. Meanwhile, combine balsamic vinegar and brown sugar in a small pot on the stove top; bring to a boil. Lower to medium heat and simmer until reduced by half. Serve grilled asparagus and mushrooms over polenta, or other choice of grain, with balsamic sauce drizzled on top.
(5) Lisa Komidar, Philipsburg
Steamed Asparagus with Bacon and Onion
- 1 lb asparagus
- 1/2 cup bacon
- 1/2 cup onion
- 1 tablespoon lemon juice
- 1 tablespoon fresh parsley
Steam asparagus. Meanwhile, brown chopped bacon and onion. Toss with asparagus, along with lemon juice and fresh parsley.
(6) Jennifer Streb
Grilled Asparagus with Ginger Vinaigrette from Tait Farm Foods
Grill asparagus and drizzle Tait Farm's Ginger Vinaigrette on top.
(7) Wendy Lynn
Sautéed Asparagus
Sauté asparagus in a frying pan with a little olive oil and chopped garlic.
(8) Sandy Miller
Steamed Asparagus with Mushrooms and Garlic
Steam asparagus briefly, leaving it slightly crisp. Sauté it in olive oil along with with sliced mushrooms, chopped garlic, and a dash of salt and fresh-ground black pepper.
(9) Destiny Aman, Pennsylvania Furnace
Caramelized Asparagus
- skinny asparagus spears
- olive oil (best if flavored/infused with orange or hot pepper)
- organic sugar
- kosher salt
Drizzle asparagus spears with olive oil; sprinkle with sugar and a little bit of salt. Grill directly on the BBQ over high heat, turning when asparagus starts to brown. Great as an appetizer before you throw the rest of the meal on the grill!
(10) Susan Venegoni, State College
Grilled Asparagus with Garlic, Dry White Wine, and Mushrooms
- 1/2 clove fresh garlic
- 3/4 cup dry white wine
- pat or two of butter
- 1/2 cup sliced mushrooms
- salt and pepper
- 2 lbs fresh asparagus
Arrange all ingredients but wine on a piece of foil. Fold foil so it will hold liquid, then add wine. Place another piece of foil on top to make a packet; place on the grill. Cook 5-7 minutes on each side. Serve with white fish like flounder (which takes about the same amount of time to cook on the grill), fresh bread, and cold sliced tomatoes.
(11) Beth
Asparagus with Bacon and Chives over Pasta
- 2 strips bacon cut into 1-inch pieces
- 1 green onion or 1 bunch chives, cut into small pieces
- 1 bunch asparagus, cut into 2-inch pieces
- 1 lb pasta
- Parmesan cheese for serving
Cook pasta according to package directions, drain, and set aside. Heat skillet over medium-high heat. Add bacon and cook until almost crispy. Add onion or chives and continue cooking until bacon is crispy and onions are browned. Add asparagus to pan (with olive oil if it seems dry). Cover and cook 5-8 minutes until asparagus is done. Add asparagus mixture to pasta, stir, and serve with Parmesan cheese.
The winner was chosen using a random number generator. Congratulations, Destiny!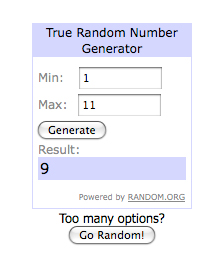 Author: Emily Wiley
Bio: WPSU Multimedia Producer | Wife and Mother | Lover of Food and Photography | One-Half of The Culinary Couple