Posted by Emily Wiley on 02/09, 2012 at 07:01 PM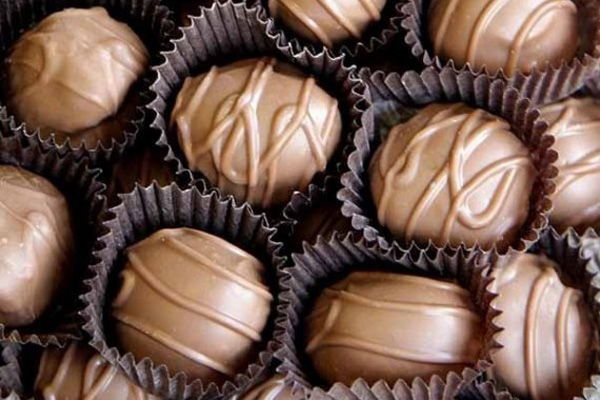 You and your Valentine are invited to Mt. Nittany Winery in Centre Hall this weekend for a wine and chocolate pairings event. Treat yourself, your sweetheart, or a group of friends to Mt. Nittany's wines paired with local sweets from Chocolate Madness.
Event hours are Saturday, Feb. 11th from 12-5pm and Sunday, Feb. 12th from 12:30-4pm. Cost is $4.50 per person, and reservations are required. Contact the winery at (814) 466-6373, 300 Houser Road in Centre Hall.
Continue reading for a chocolate truffles recipe from the winery.
Chocolate Madness carries a variety of artisan candies—from peanut butter delights to cherry cordials to chocolate covered twinkies. You can purchase a selection of sweets from their online Etsy shop.
If you prefer a homemade treat this Valentine's Day, try this truffles recipe from the folks at Mt. Nittany Winery.
Chocolate Truffles
1/4 cup heavy cream
2 Tbsp Grand Marnier
6 oz German's sweet chocolate, broken up
4 Tbsp sweet butter, softened
powdered unsweetened cocoa
Boil cream in a small heavy pan until reduced to 2 tablespoons. Remove from heat, stir in Grand Marnier and chocolate, and return to low heat; stir until chocolate melts.
Whisk in softened butter. When mixture is smooth, pour into a shallow bowl and refrigerate until firm, about 40 minutes.
Scoop chocolate up with a teaspoon and shape into 1-inch balls. Roll the truffle balls in the unsweetened cocoa.
Store truffles, covered, in the refrigerator. Let truffles stand at room temperature for 30 minutes before serving.
Yield: 24 truffles
Variations: Substitute dark rum, Cognac, or another liqueur for the Grand Marnier. Also try, Kahlua, Framboise, Creme de Menthe, or Amaretto.
Author: Emily Wiley
Bio: WPSU Multimedia Producer | Wife and Mother | Lover of Food and Photography | One-Half of The Culinary Couple