Posted by Linda Weaver on 06/04, 2014 at 02:41 PM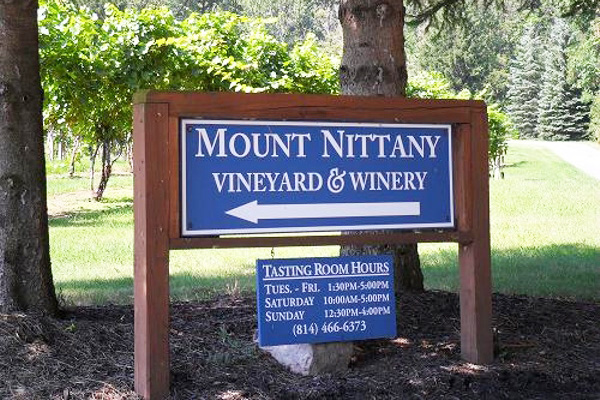 To celebrate June as "National Dairy Month," Mount Nittany Vineyard and Winery will host free wine and cheese tastings every Saturday in June from 12 noon until 5pm.
On Saturday, June 7, local cheese artisan Stone Meadow Farm will be available in the winery tasting room to provide samples and sales of their products. Stone Meadow raises milking and beef cattle in the beautiful pastures of Centre County, Pennsylvania. Their cheeses are made directly on the farm from fresh, whole unpasteurized milk which is dense with nutrients due to their farming practices and breed of cows. Stone Meadow makes a variety of hard cheeses: Cheddar, Swiss, Colby and Jalapeno Jack. In addition, seasonally they offer soft cheeses such as Camembert and Taleggio, as well as smoked cheeses.
The following Saturday, June 14, Goot Essa will bring their cheeses to our tasting room to sample and sell. Goot Essa, which means "good food" in the Amish dialect, is a group of Plain Pennsylvania dairy farmers formed in 2001. The members make foods with recipes and methods handed down from generation to generation. The food products are made with all natural ingredients and no added preservatives. Goot Essa cheeses offer real flavor, made the old fashioned way in small quantities, with individual attention that makes a selection for your table or a gift for a friend so much more meaningful.
On Saturday, June 21, Clover Creek Cheese Cellar will be on hand in the tasting room to share samples of their cheese products. Clover Creek is a family consisting of seven members: Dave, Terry, Anthony, Yolanda, Jesse, Austin, and Vannika Rice. They have 126 acres in beautiful Morrison's Cove Valley in Blair County where they feed, milk, and care for 70 Milking Shorthorns, Jerseys, Holsteins, Ayershires, Brown Swiss, and crossbred cows. Clover Creek's cheese is aged in one of our two cellars on maple shelving. The aging and growing process gives their cheese a complex flavor and sharpness usually found in European style cheeses. Their milk is from a single herd who are all fed grass pasture
. All cheese is made from fresh raw milk started during the milking time
 and is allowed to naturally age and mature in large wheels 
which are cut and vacuum packed after aging for best flavor.
Cheese vendor on June 28 TBA.
Author: Linda Weaver
Bio: Marketing & Media Coordinator for Mount Nittany Vineyard & Winery / Mother of Three Boys / Penn State & UVA Grad / Lover of Cooking, Wine, and the Great Outdoors