Posted by Kim Tait on 03/19, 2012 at 04:31 PM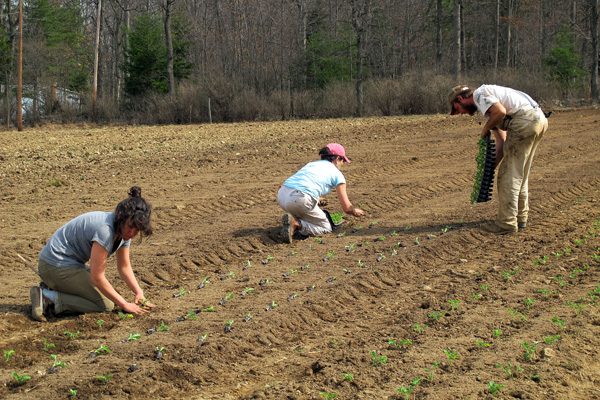 For over 25 years, the CSA movement has been gaining popularity with small to medium size farms across the country. In its simplest form, a group of individuals become paying members of a farm and in return, the farm grows fresh produce for the members. In this mutual partnership, the farm and the members share in both the abundance and short falls associated with farming.
Members often pledge their financial support early in the season, which helps the farm establish its operating budget for the year. With a known market for the produce and money in-hand, It allows the farm to focus on growing food, and alleviates the worry about marketing during the year.
With the several thousand CSAs across the country, the model for distributing food to members varies. For farms that are far away from population centers, member shares of produce are generally boxed up and brought to a central location(s) in town. Distribution sites can be a business, church, school and sometimes even a member's home. For farms that are closer to town, pick up is often done directly at the farm, where folks go to gather their weekly share. Regardless of whether a share is brought to town or picked up at the farm, once a week distribution is typical.
Most CSAs operate during the primary growing season (May-October), but a growing number of farms are now offering year-round shares as well.
Here in Centre County, we are blessed with a wide variety of CSAs in the area. Each farm offers something just a little bit different, giving interested consumers several options to choose from. But what they all have in common is the guarantee to customers of weekly, fresh produce grown by farmers they know and trust.
There are many benefits to joining a CSA, including a direct connection to the farm and farmers that grow your food, fresh produce that follows the growing season, and an opportunity to eat locally and seasonally. Most farms offer recipes with the weekly share, which helps to educate folks about the often new and unusual vegetables they are receiving. In a world of uncertainty and global food concerns, CSAs offer true food security to both farmers and consumers.
There are wonderful CSA options in our region. Our friends at Voices created a CSA Directory in a recent issue, you can view it online. Here's to a season of happy, healthy eating! In fact, we still have spaces available in our CSA, Community Harvest for the 2012 season.
Author: Kim Tait
Bio: Co-Founder, Tait Farm Foods and Community Harvest CSA