Posted by Emily Wiley on 05/11, 2011 at 06:24 PM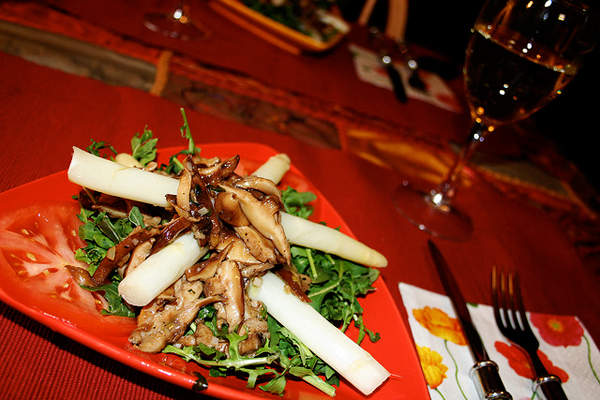 Have you tried white asparagus? It is slightly milder and more tender than green asparagus and is considered to be the more "gourmet" option of the two. The process for growing it, however, is quite easy.
Both green and white asparagus come from the same seed; white asparagus is simply deprived of sunlight. Dirt is piled on top of the plant, which eliminates chlorophyll production and prevents it from turning green.
Either white or green asparagus may be used in this salad recipe, though the white provides a nice color contrast to the arugula, mushrooms, and tomatoes.
Don't forget to share your own asparagus recipe before Tuesday, May 31st for your chance to win a $25 gift certificate to Tait Farm Foods!
Ingredients
1 lb white asparagus
extra-virgin olive oil
1/4 lb shitake mushrooms
1/2 teaspoon minced garlic
1/2 teaspoon chopped tarragon leaves
salt and pepper
balsamic vinegar
1/2 lb arugula
2 tomatoes, thinly sliced
Directions
In a medium saucepan, bring 1 quart of salted water to a boil. Meanwhile, fill a bowl with ice water and place it near the sink.
Place asparagus in boiling water for 2-3 minutes until barely limp. Immediately transfer asparagus to ice bath for 5 minutes to stop the cooking process.
Meanwhile, in a small sauté pan over medium-high heat, add olive oil, mushrooms, and garlic. Cook about 2 minutes until mushrooms begin to brown. Add tarragon, salt, pepper, and a splash of balsamic vinegar. Set aside.
Arrange sliced tomatoes and a handful of arugula on each salad plate. Top with asparagus spears and drizzle with shitake dressing.
(adapted from the Food Network)
Author: Emily Wiley
Bio: WPSU Multimedia Producer | Wife and Mother | Lover of Food and Photography | One-Half of The Culinary Couple