Posted by Local Food Journey on 02/06, 2015 at 01:59 PM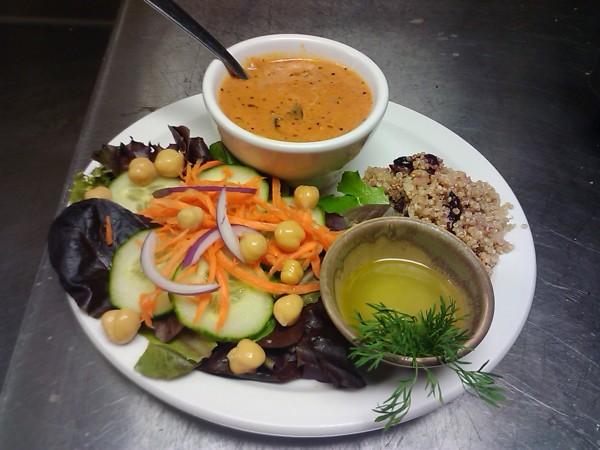 By Emily Edling, Local Food Journey Intern
Webster's Bookstore Café is known for its cozy atmosphere of used book and a broad selection of café drinks. But what sets them apart from the other coffee shops of downtown State College is their wide range of food, especially their vegetarian and vegan options, utilizing local sources to make these tasty meals.
Aside from specialty coffee and tea drinks, Webster's does a lot of things with vegetarian ingredients such as hummus, paté, and portabella mushrooms all of which can be made in the form of sandwiches, salads, paninis, or wraps and that are all vegan unless you choose to add cheese. They also offer a soup of the day and other daily specials, which offer even more vegetarian options.
For non-vegan's there are also many egg sandwiches and burritos available, each with a literature-themed name. In fact, with the exception of about two or three items, the entire menu at Webster's is vegetarian friendly—it's a dream come true! My personal favorite is the Spicy Bean Chili, which is a vegan dish that has the perfect amount of spice to warm up on these cold winter days.
Along with the in-store café items, Webster's also does a lot of catering events. For example, they will be at the PASA Farming for the Future Conference this weekend serving coffee and quinoa sides, among other things.
Webster's is truly a community-centered space, and this attitude extends even into the decision of where to buy ingredients for the café food. All of the local dairy comes from Meyer Dairy; this is crucial for the making of another of my favorites, the Brown Cow, which is a latte made with Meyer Dairy chocolate milk. They also get their eggs from the local Spring Bank Acres dairy farm, most of their produce comes from Green Heron Farm, and Byler Goat Dairy supplies goat milk used for specialty drinks.
I am a firm believer that no meal is complete without a sweet treat, so I was thrilled to find out that Webster's has a selection of featured baked goods made by Clare Traynor of Sweet Indulgences Desserts located in Pleasant Gap. These include pies, brownies, cookies and they are always sure to include at least one vegan dessert as well.
Along with taking full advantage of the local food sources, Webster's also sells and displays many other products from local artists and vendors. These include woven baskets, coffee mugs, books, and other food and cooking products such as Tait Farm Food's Fruit Shrubs. Webster's also is a great place to find out about local happenings, as they have flyers hanging all around regarding local events and also host a slew of events in the store such as the weekly Tuesday Tango that I walked into earlier this week.
Webster's is truly a safe haven for vegetarians and book lovers alike, and everyone in between. It is the perfect place to spend an afternoon reading a good book, grab a quick bite to eat, or hunker down to get some work done. The atmosphere is one of a community, warm and welcoming and full of life. With a great selection of local food, drinks, and of course books all at reasonable prices, Webster's is a must visit in downtown State College.
Author: Local Food Journey
Bio: An exploration of what it means to eat local