Posted by Anna Lombardo on 10/23, 2014 at 02:28 PM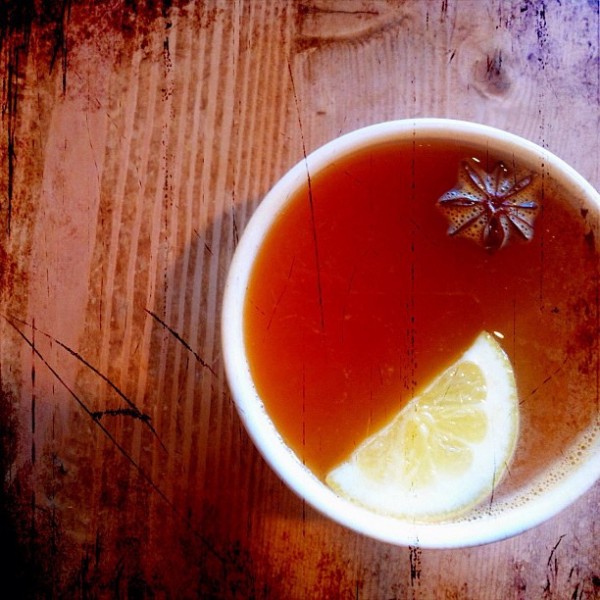 Apple cider is one of those cold-weather favorites: steaming cups of the hot, fruity stuff bring back pleasant memories of many a childhood. I always associate it with my family's annual Christmas tree outing to a local farm in my hometown, where the drink was made on the spot and given out to patrons free of charge (each subsequent refill costs you a quarter). You can find cider in almost any grocery store throughout the year, but there is absolutely nothing like a freshly poured mug of it to warm your hands (and soul).
Way Fruit Farm, located in Port Matilda, has taken this advice to heart, and since their earliest days of cider-making has put quality over quantity. "We make [our cider in] small batches,"says Jason Coopey, a co-owner of the farm and who, at the moment I called Way, was actually making the cider right then and there.
I made a bad joke about "being in the cider mood" and then proceeded to ask him a little more about the history and evolution of the cider-making process. Though Way's website indicates that the farm has been in existence since the late 1800s (I learned, amazed, that six generations of the Way family have lived on the farm property since it began), proper cider-making didn't start until about the 1980s.
"At that point, everybody [was making cider]," Coopey tells me. It was unique and new for everyone in those days. But, he goes on, because cider has become so ubiquitous, "there is [now] more of an emphasis on specialty."
The "wow" factor doesn't derive from the fact that you're making cider; it is dependent on how good that cider is. Coopey identified this as a trend happening with local foods in general, commenting that the "mystique" of local food is dwindling and the quality of those local foods is what allows them to prevail.
So what, if anything, separates Way's cider from the rest? "It's a really complicated recipe," Coopey joked. "It's just apples."
It really is just apples: there are no added sugars or preservatives. Coopey said that fillers and flavorings like these add a "real bitter" taste to the ciders that make use of them. Many of these ciders, which are mass produced and made for chain grocery stores and supermarkets, come across as bland; Coopey blames the lack of "personal touch" as the cause.
"There's not that artistic blending," he says. "Local foods create artistry; that's what makes them so much better."
Way's cider is, indeed, very much like a work of art. The drink makes use of a "complex blend" of apples, the components of which vary depending on the time of year and what varieties of apples are available. "It's all our own apples," Coopey tells me, "and we pick them when they're supposed to be picked." At the moment, they are pressing a nice range of the fruit: Honeycrisp, Gala, Golden Delicious, and Cortland, among others.
The start of this cider season began for Way around mid-September. They pressed cider last season all the way up until almost July of this year, so if you haven't had a chance to pick up your quart, half gallon, or gallon yet, you have more than enough time to do so. Or, you can always go get a hot cup at the cafe which is attached to Way's store in Port Matilda.
For those in the State College area, Way also runs a stand at the State College Downtown Farmer's Market on Fridays. No matter where you are, there's a helping of Way's cider—hot or cold—waiting somewhere for you!
Editor's Note: Way will be holding an Apple Pie Contest Saturday starting at 10:00 a.m. at the farm. Details can be found here.
Author: Anna Lombardo
Bio: Suburban Philadelphian English major at Penn State Avid learner, runner, and eater