Posted by James Eisenstein on 07/14, 2014 at 10:59 AM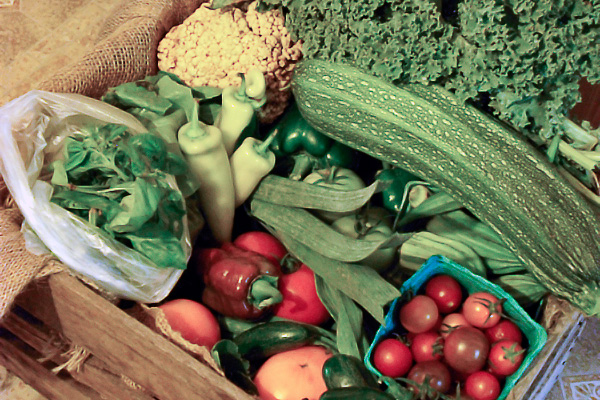 Just about everybody knows the health benefits of eating fresh, local vegetables and fruits. But actually eating them is another matter. Often the reason for this is not knowing how to prepare them in creative and easy ways. To remedy this, The Boalsburg Farmers Market is sponsoring a "Vegetable Festable" on Tuesday, July 15 from 2:00 to 5:00 p.m. at the Boalsburg Farmers Market, located at the Pennsylvania Military Museum on Bus. Route 322 in Boalsburg. The event is designed to demonstrate how to use the fresh vegetables and fruits available at our local farmers markets and to inspire creative cooking at home.
Anne Quinn Corr, local food writer, cooking instructor and chef will lead a team of Penn State Nutrition students and counselors from the Cook Like a Chef cooking camp program to demonstrate what to do with the fresh fruits and vegetables that the market vendors have for sale.
We know that we are supposed to eat 9 to 11 servings of fruits and vegetables every day, observed Chef Corr, but what does that look like on your plate? You can't achieve that goal if you stick to the few vegetables that your family accepts. You have to broaden the horizon at the table and prepare tasty and visually appealing dishes that people want to try. She named Carrot Mojito Salad, Zucchini Puttanesca, and Sugar Snap Pea Remoulade as examples that provide some out of the ordinary takes on common vegetables. We' ll also be sampling unusual vegetables like fennel and kohlrabi and comparing their crunch factor, said Corr.
Everyone attending will receive a booklet with 15 recipes for fruits and vegetables that are sourced from the "Cook Like a Chef" cooking camp manual. An additional handout of recipes prepared at the event will also be available.
As always, there is plenty of free parking available next to the market, musicians to entertain the shoppers, and tanks for kids to clamber on. This dog-friendly, buffalo-friendly, kid-friendly venue is the best market in town!
The Vegetable Festable coincides with Happy Valley Culinary Week, July 14-20, 2014.
This event is being funded in part by a Direct Farm Sales Program grant from the Pennsylvania Department of Agriculture (Grant ME # 44134502, 2014).
Author: James Eisenstein
Bio: Unpaid Field Hand at Jade Family Farm | Former Penn State Professor