Posted by Christina Barkanic on 02/11, 2011 at 07:20 PM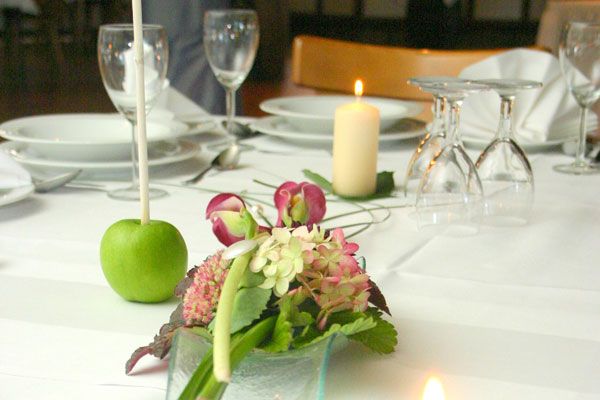 Are you still looking for a way to spoil your sweetheart this Valentine's Day? Why not dine out at a local restaurant that promises to serve fresh, seasonal food in a romantic setting?
Harrison's Wine Grill
Harrison's proudly offers a diverse menu that changes seasonally and superb service year-round. This Valentine's Day make a reservation at Harrison's and experience a special dinner with your Valentine. In addition to the full menu, Harrison's offers a Valentine's Day menu, as well, complete with mouthwatering starters, entrees, and sparkling wine. This romantic meal includes Pistachio-Crusted Seas Bass, Beef Tenderloin, Heart-Shaped Ravioli, and Lobster-Wrapped Scallops.
Want to create your own romantic space at home but still want the elegance of eating out? You're in luck because at Harrison's you can pre-order a meal and take it back to the comfort of your own home—hopefully already adorned with candles and wine!
For restaurant reservations call 814-237-4422.
Harrison's Wine Grill
State College Hilton Garden Inn
1221 East College Avenue
State College, PA
Spat's Café
Spats also provides fresh and local ingredients in an intimate space. Spat's serves "the best of New Orleans," which include tapas and Cajun dishes. Tapas are "small dishes" that can be eaten as an appetizer, or you can order a variety of them to share as a meal. In addition to tapas, the dinner menu is very extensive. Entrees include Jambalaya, crab cakes, duck, pasta, and several vegetarian options. End your meal with a homemade dessert like Crème Brulee or Mocha Fondu for two.
Every Monday Spat's offers BYOW (bring your own wine) night, and Valentine's Day falls on a Monday this year – how convenient! So make your reservation, bring your bottle of wine, and enjoy your Valentine's Day experience in downtown State College!
For reservations call 814-238-7010.
Spat's Café
142 East College Avenue
State College, PA
Author: Christina Barkanic
Bio: Christina is a senior at Penn State majoring in broadcast journalism and minoring in sociology. She has a passion for journalism, the outdoors, good food, and good company. Ideally, she would like to combine all four by producing her own nature meets organic cooking show one day.