Posted by Jamie Oberdick on 08/23, 2011 at 04:28 PM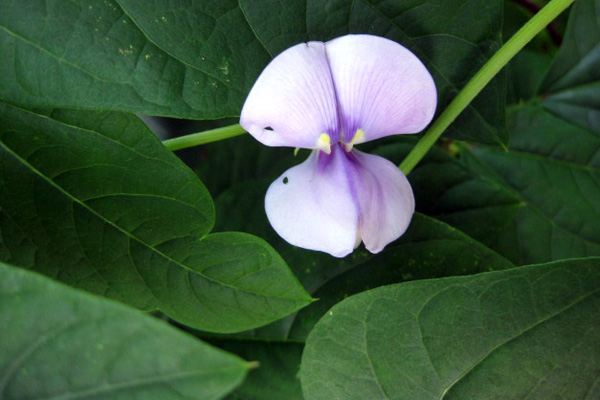 Home vegetable gardens are an ideal and super-local way to get fresh, delicious produce, but they can also be a beautiful addition to your yard. Many vegetable plants not only taste great, they look great, too—and not just on a plate.
Flowers are the most obvious example of beauty in a garden. The photo above is the blossom of the Chinese red noodle bean. It's an Asian long bean that grows up to 18 inches long, and is better than regular green beans when stir fried, in my humble opinion. But the flower is remarkable—it almost reminds one of an orchid. Interestingly enough, in my garden this flower is only out for a few hours in the mid-morning before it goes to bean.
In the evening, the blossoms of the serpente di Sicilia, an edible Italian gourd, put on quite a show. The serpente di Sicilia is quite tasty, too, prepared similar to zucchini but with a more pronounced flavor. I find them to taste something like a cross between a zuke and asparagus. They look fantastic growing up a trellis, and have velvety-soft leaves. What's not to like about a plant with a flower this elegant?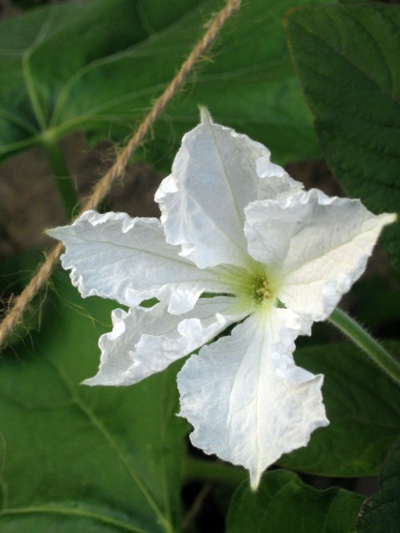 Next, another vining plant: the Christmas pole lima bean. Here is an example of how to construct elements for viners like cucumbers and beans that grow up. The photo on the left shows support poles with the beans beginning their climb. The poles came from downed tree limbs and sumac saplings that I cut down. The photo on the right shows them engulfing the poles and coming back down the other side! This picture was taken yesterday. The Christmas pole lima bean name is fitting, given it is shaped like a Christmas tree. And by the way, the beans are incredible—crimson red with white speckles and a nutty, chestnut-like flavor that is just outstanding.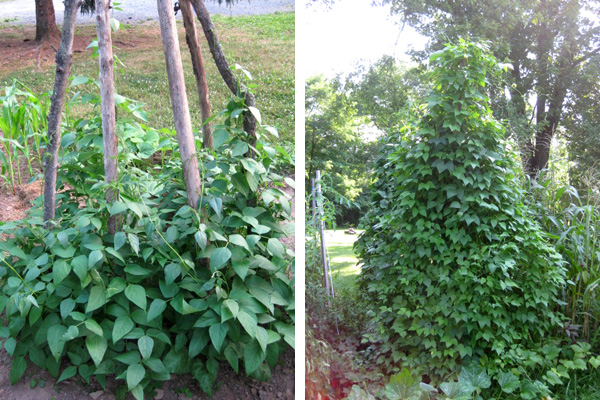 There are still other plants that have remarkable foilage. The fish pepper, for example, has varigated leaves that are striking. The peppers start green with yellow stripes and turn red. Like so many heirloom plants, the fish pepper has a great back story, too. They were grown in African-American communities in the Philadelphia-Washington DC areas for years, and are called fish peppers because they are dried and ground into a white paprika to spice up seafood stews. A small chili pepper, I prefer these over jalapeños in salsa.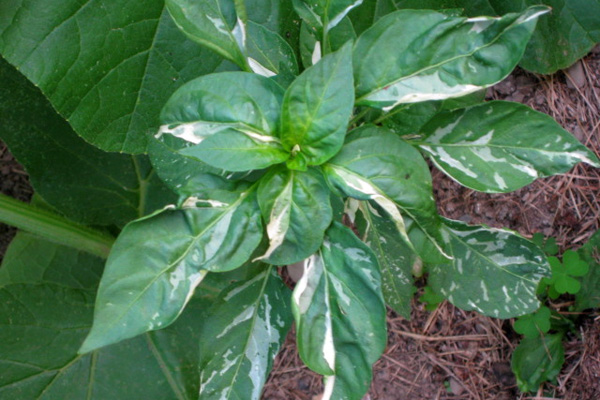 These are just a few examples of the plants that grow in my garden, but keep in mind that there are many other ways to add beauty to your garden. Use your imagination; there are lots of things you can do, from building unique trellises and/or supports for your vegetables, to laying stone paths throughout your garden. Also, I have seen many gardens, mine included, with a bench or wicker chairs so you can sit and soak in all that beauty.
And finally, have you watched the sun set over your garden? Nothing like ending a long weekday by enjoying your beautiful garden being bathed in the light of the setting sun. The fruits and veggies from your garden are good for your body, but such a sight is good for your soul.
Author: Jamie Oberdick
Bio: Editor, Local Food Journey | Passionate about supporting local food in Central PA