Posted by Linda Weaver on 01/17, 2017 at 02:40 PM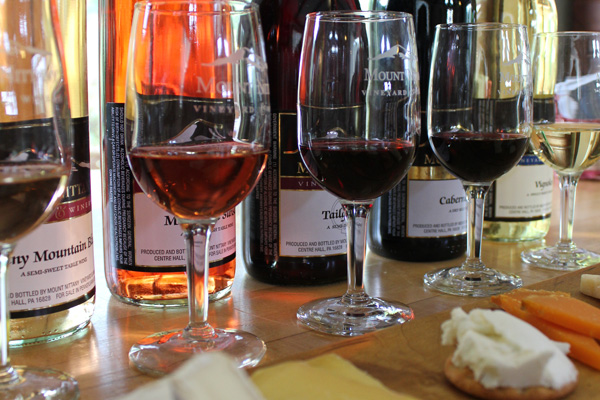 Editor's Note: Here are several events coming up over the next few months that would be of interest to local wine lovers at Mount Nittany Vineyard and Winery.
Valentine's Day Wine & Chocolate Pairing
February 11-12, 2017
You and your Valentine are invited to attend Wine & Chocolate Pairings at the Winery. Treat your sweetheart, friend, or come as a group and enjoy Mount Nittany's award-winning wines paired with delicious Asher's Chocolates. Special event hours are Saturday, Feb. 11 & 12 from noon to 5:00 p.m. Cost is $8.95 per person; reservations are required. Call the winery at (814) 466-6373. This event sold out last year so reserve now!
Susquehanna Heartland Wine Trail - "A Ticket to Good Taste & Adventure"
Month of March, 2017
Welcome the coming of spring during the month of March, 2017, while taking in the sights of the Susquehanna Heartland Wine Trail. Stop at each of the 17 member wineries and taste their award-winning wines. Tickets are $25 each. Ticket holders are entitled to a complimentary SHWT wine glass and free winetasting. Also, food will be available between 12 and 5 pm each Saturday & Sunday during the month of March, 2017 at all 17 wineries.
**Mt. Nittany Winery will be offering a complimentary chili bar to wine trail participants catered by Hogfather's BBQ! For more information on prizes and to purchase tickets, go to http://www.pawinetrail.com.
Trail-to-Wine 5K at Mt. Nittany Vineyard & Winery
Sunday, April 30, 2017 (8:30am & 5:30pm runs)

Come join us for a Spring 5K at Mt. Nittany Vineyard & Winery. The rolling terrain will make this course more of a trail run. Between running through the wine grape rows, around a wooded area, by the beautiful pond, this 5K will having you loving nature. Finish off with a glass of wine and stay and taste other wines, enjoy the company of other runners. Wine shop and sales available. Open to runners 21 years of age and older. A portion of the proceeds benefit Centre County PAWS. For more information, go to http://www.leftrightrepeat.net/current-events.html.
Author: Linda Weaver
Bio: Marketing & Media Coordinator for Mount Nittany Vineyard & Winery / Mother of Three Boys / Penn State & UVA Grad / Lover of Cooking, Wine, and the Great Outdoors