Posted by James Eisenstein on 09/21, 2011 at 05:11 PM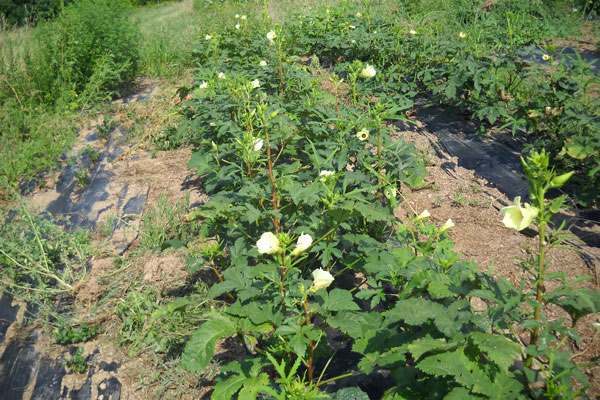 Your chances of identifying this mystery crop increase in direct proportion to how far south you grew up. These plants like really hot weather. In fact, they are not supposed to grow very well in central Pennsylvania. But that doesn't stop my son, John.
John doesn't like how itchy he and his minions get while harvesting them. He probably doesn't make money on them, but hey, farmers don't seem to be very good at that anyway.
The next picture shows the growing vegetable, but I'll wager that for many of you, it won't help you to identify it. So here's the best hint I can give. It is the marketing slogan that one of our customers recommended to us to increase sales: "Not as slimy as you thought!"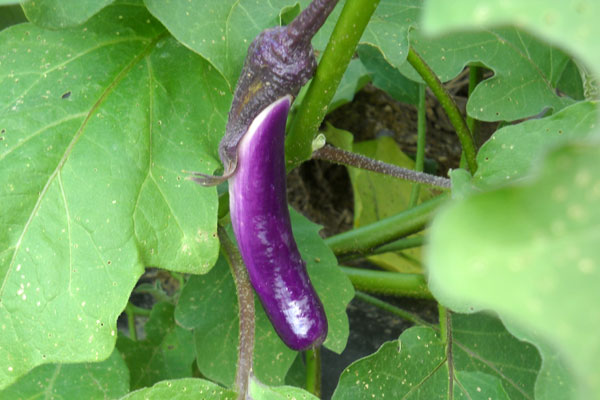 It's okra! Look for the small, green tapered fruits at the tip of the plants. (There are at least 15 in the picture above.) We have folks from the South who come to our stand specially to buy it (and, often, not anything else whatsoever!). They rave about its quality. We pick it small (almost daily) so it is tender and fresh. So, now that you know, will you overcome your food fear and try it? We hope to see you at the market!
Author: James Eisenstein
Bio: Unpaid Field Hand at Jade Family Farm | Former Penn State Professor