Posted by James Eisenstein on 07/25, 2011 at 05:21 PM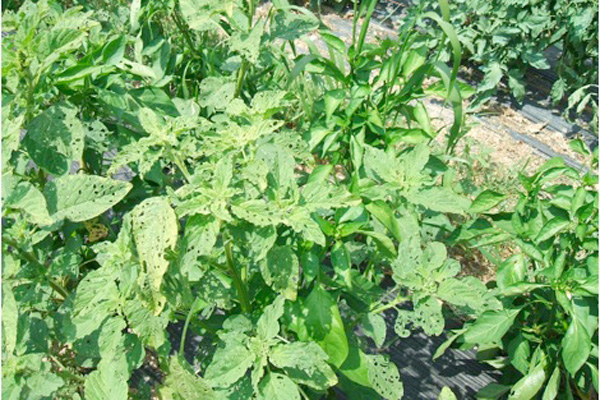 Driving around central Pennsylvania, I typically see entire fields dedicated to neat rows of corn and soybean plants – all instantly recognizable. And photos from mega-agribusinesses show similarly uniform fields. Any media consultant smarter than a brick would advise a farmer client to only depict similarly pristine views of growing crops.
But what do you notice about the photo of this farm field?
Most people do not see vegetable farms up close, especially organic (sometime weedy) ones. Though it is easy to spy weeds in their neighbors' vegetable gardens. Gardeners who discuss their backyard efforts at the Jade Family Farm stand at the local markets sometimes roll their eyes and moan about the states of their vegetable patches.
At the farm where I apply my skills as an unpaid field hand, weeds are a big problem. In fact, during our very first visit from a Pennsylvania organic certification inspector, her first words were: "Well, I can see that you aren't using herbicides."
Maybe someday we'll figure out how to control weeds and do all of the other essential farm tasks, but as the picture above shows, it hasn't happened yet.
So can you name the vegetable among the weeds?
Home gardeners might be able to discern pepper plants. In perverse moments, you have to admire weeds. These thrived right next to pepper seedlings planted in black plastic mulch.
Yes, it would have been a simple matter to pull these weeds when they were still small. But we didn't. Why? The answer will have to wait until my next post: "How to Plan a Day's Work on a Vegetable Farm." There, you will get to try your hand at devising a plan that would have saved me the joy of spending about six hours on hands and knees in our recent delightfully warm weather cutting the big weeds with clippers.
When finished, this is what the field looked like.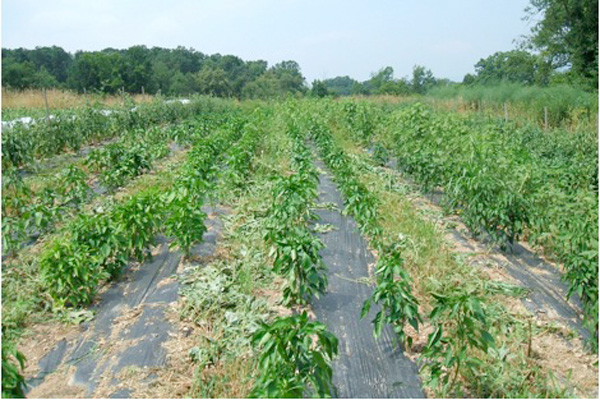 Stay tuned for next week's post to find out how we accomplished that!
Author: James Eisenstein
Bio: Unpaid Field Hand at Jade Family Farm | Former Penn State Professor