Posted by James Sechrengost on 12/05, 2014 at 02:17 PM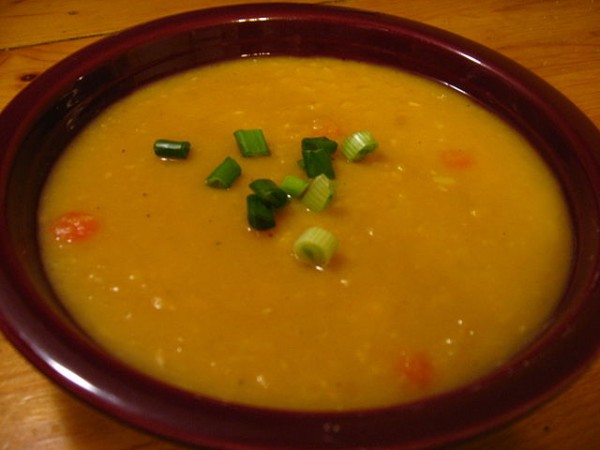 With the weather getting cold and miserable, I have to wonder what was I thinking moving from Southern California to Pennsylvania? Of course now they are in monsoon season. I remember when I got to SoCal one of the first things the military had me do was fight brush fires. Then when winter came I was back in the same area filling sand bags to stop the mud and rain from ruining homes since there was no vegetation left from the fires to hold the soil in place.
Where was I? Oh, yeah, cold weather. After trudging through the snow and slush the last thing I feel like doing when I get home is cook. I just want to put on my jammies and settle down in my warm house and let the storms rage outside. So to do this I have become a fan of soups. In particular soups you can make in a crockpot. I put everything in the crockpot, turn it on, and when I get home the house smells wonderful and there is a warm meal waiting to heat me up. Throw in some nice crusty bread and some local butter and I am a happy little camper. I have included below two recipes for my favorite versions of both lentil and split pea soups. I hope they warm you up as much as they do me.
Lentil Soup
Ingredients
1 cup dry lentils
1 cup chopped carrot
1 cup chopped celery
1 cup chopped onion
2 cloves garlic, minced
1/2 teaspoon dried basil, crushed
1/2 teaspoon dried oregano, crushed
1/4 teaspoon dried thyme, crushed
1 bay leaf
3 1/2 cup chicken broth
1 1/2 cup water
1 (14 1/2 oz.) can Italian-style stewed tomatoes. I like Hunts.
1/4 cup snipped fresh parsley (Optional)
2 tablespoons cider vinegar (Optional)
1/2 lb. cubed ham (Optional)
steps
1. Rinse the lentils in cold water.
2. Place lentils, carrot, celery, onion, garlic, basil, oregano, thyme, ham (if using) and bay leaf in Crockpot.
3. Stir in broth, water and undrained tomatoes.
4. Cover; cook on low for 12 hours or on high-heat setting for 5 to 6 hours.
5. Discard bay leaf. Stir in parsley and vinegar (if using).
Split Pea Soup
Ingredients
1 lb. dried green split peas, rinsed
1 hambone, or 2 meaty ham hocks, or 2 cup diced ham
3 carrots, peeled and medium sliced. Too thin and they break up.
1 medium onion, chopped
2 stalks of celery plus leaves, chopped
1 or 2 cloves of garlic, minced. Lately I have found that I like to grate garlic or use a garlic press. Less chance of biting into a piece of garlic.
1 bay leaf
1 tablespoon seasoned salt (or to taste)
1/2 teaspoon fresh pepper
1 1/2 quarts hot water
steps
1. Layer ingredients in slow cooker, pour in water slowly. DO NOT STIR.
2. Cover and cook on high 4 to 5 hours or on low 8 to 10 hours until peas are very soft and ham falls off bone.
3. Remove bones and bay leaf. Serve garnished with croutons.
Author: James Sechrengost
Bio: Computer Guru | World Traveler and Foodie Extraordinaire | Member of the Been there Done that Club