Posted by Tony Ricci on 09/07, 2011 at 04:57 PM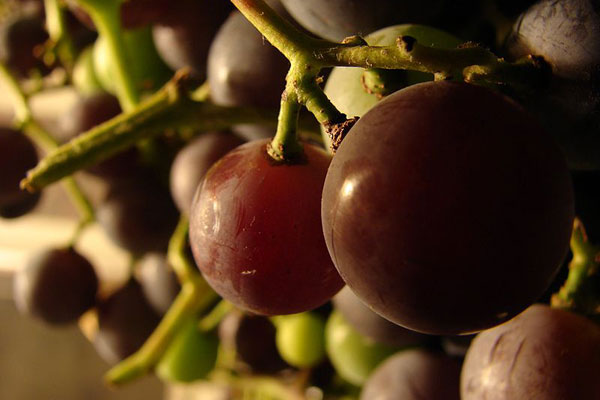 The season is tilting decidedly toward fall, and the crops are shifting toward soup ingredients and fall fruit.
We finally got a wonderful crop of Concord Grapes this year. Exceptionally early spring weather and late frosts devastated the grapes the previous two years, and I was really looking forward to harvesting this bumper crop. But as we made our way down the arbor, I kept noticing yellow jackets digging into the fruit. This isn't unusual this time of year when every creature in existence is trying to get to our crops before we do. We're used to the competition.
What I wasn't ready for was the hive that was built right in the middle row of grapes. These bees had a sizable condo complex going with ready access to the best eating establishment in town. We're still able to harvest at the cheaper end of the block, but they definitely control the prime real estate.
Unfortunately, we don't have any employees with fierce piercings or dragon tattoos so we're forced to abandon that part of the patch to the invaders. This is just a reminder that land ownership is a tenuous concept in the natural world. There's nothing like a hornet's nest to make a mortgage seem like a meaningless piece of paper.
Asian Pears are also doing well this year. We have a lot of seconds that should be good for mixing with apples for a great sauce.
Tomatoes are slowing down a little because of the cooler weather, but we still have good quantities.
New This Week
Leeks
Sweet Potatoes
Baby Arugula
Baby Turnip Greens
Baby Spinach
Author: Tony Ricci
Bio: Co-owner and operator of Green Heron Farm in southern Huntingdon County | Provides year-round supplies of local, organic vegetables (retail and wholesale) across central Pennsylvania