Posted by Kristin Camplese on 11/25, 2011 at 12:59 PM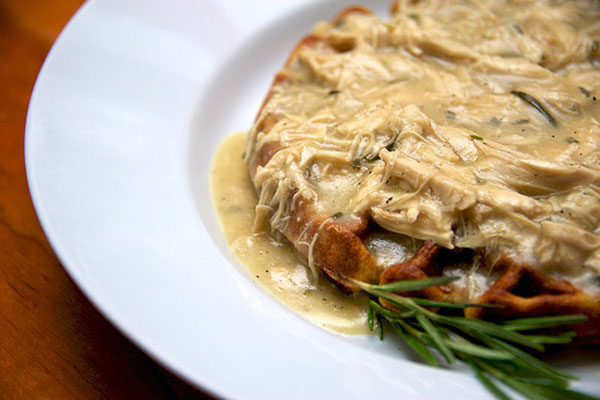 Looking for a tasty way to use those Thanksgiving turkey leftovers? This dish takes a savory, rosemary-infused Belgian Waffle and tops it with turkey stewed in marsala-laced and butter-rich gravy.
For Turkey and Gravy
1/2 cup butter (1 stick)
1/2 cup flour
4 cups of chicken stock (homemade is best)
1 1/2 tsp salt
1/2 tsp pepper
1/2 cup sweet marsala wine
5 cups of shredded turkey (white meat is best)
1 tbsp fresh rosemary, chopped
For Waffles
1 cup whole wheat pastry flour
1 cup all purpose flour
1/2 tsp salt
1 1/2 tsp baking soda
1 1/2 cups yogurt or thinned sour cream
1/4 cup milk
2 eggs, separated
4 tbsp butter, melted
2 tbsp fresh rosemary, chopped
Make the gravy by melting 1/2 cup of butter in a medium saucepan over medium heat. Whisk in the 1/2 cup flour and cook for about three minutes, whisking constantly (this is called the "roux"). Add in 4 cups of chicken stock, 1/2 cup of marsala, and salt and pepper. Whisk well to make sure all of the roux mixture is incorporated with the stock. Use a spatula to make sure there is no roux left in the corners of the pan. Bring to the boil so it begins to thicken and then reduce heat to medium low. Stir in shredded turkey and simmer over medium low heat for at least 30 minutes, and more if needed. If it becomes too thick, you can add a bit of broth or marsala. Season to taste with additional salt and pepper and fresh rosemary.
Make the waffle batter by combining the whole wheat pastry flour, all purpose flour, salt, and baking soda in a large bowl. Combine the yogurt, milk, melted butter, 2 egg yolks, and chopped rosemary in a small bowl. In a medium bowl, take the remaining two egg whites and whisk them until stiff peaks form. Stir the yogurt/milk mixture into the flour mixture. If it is very thick, add a bit more milk. Gently fold in the whipped egg whites into the waffle batter and stir just until combined, so you don't deflate the egg whites. Preheat a Belgian Waffle maker and brush it lightly with melted butter. Ladle the appropriate amount of batter onto the waffle iron (according to manufacturer's instructions) and cook until golden brown and crispy. Repeat with remaining batter, keeping waffles warm in the oven.
To serve, taste gravy for seasoning and add additional salt, pepper, rosemary, or Marsala if necessary. Ladle a large scoop of the turkey and gravy over a hot waffle. Garnish with additional chopped rosemary if desired.
Author: Kristin Camplese
Bio: Author of Cuizoo.com | Writer | Photographer | Wife and Mother of 2