Posted by Jamie Oberdick on 08/08, 2013 at 01:36 PM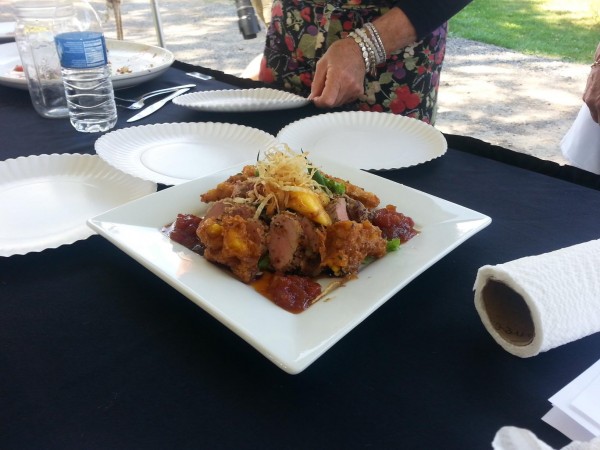 I recently was asked by the folks at the Boalsburg Farmers Market to serve as a judge for the Market's Golden Basket Awards, an annual event held as part of Local Foods Week here in Centre County. For those not familiar with the Golden Basket Awards, chefs from the local area compete for the prize by creating a full entree with ingredients found at the Boalsburg Farmers Market. Having to use local ingredients probably is the easy part of the contest. I mean, the chefs do their cooking in an area in the middle of the market and are surrounded by local meats, cheeses, eggs, dairy, sauces, and of course fresh produce. That's a pretty formidable pantry.
So, I got to judge their end result. It was a challenge to be presented with creative and delicious dishes made by professional chefs and then eat them, but I persevered. Seriously, though, the food coma I was in by the end of the event really was a bit of a challenge, but it was a happy feeling.
My fellow judges were State College Mayor Elizabeth Gorham, local food columnist Michelle Marchetti, and Kevin Kassab from the State College Public Health Department. We chose the Overall Winner: Steve Spanelli of Otto's Pub and Brewery, who put together a star plate of shallot and herb marinated grilled chicken breast stuffed with a spicy goat cheese and morel roulade with the leg and thigh topped with a red plum reduction. They paired it with a potato-bean salad and grilled summer veggies, with nasturtium flowers to garnish. The grilled chicken was unique; I've never had a grilled stuffed chicken dish before, but this inspired me to try it on my own sometime soon (and probably not even come close to how great this was).
We chose as Best Entree a beef dish with this unusual "breaded corn" concoction from the crew at Sichuan Bistro. The breaded corn was difficult to describe. There were corn kernels, with what seemed to be small chunks of breading. The result was an interesting mix of sweet and slightly spicy. Again, words fail me to describe this and I hope they put this on their menu.
Next, the Best Side Dish was an incredible spinach and arugula salad from Sean Kelly of Kelly's Steak and Seafood. Paired with a honey sesame dressing which held up well against the flavorful greens, the flavor both surprised and pleased the judges' panel. It was so good that maybe Sean should consider replacing the giant cow on top of his restaurant with a giant arugula leaf? No? Yeah, probably not the best idea. They do offer one of the best places around to get a steak.
Finally, the Best Dessert was made by Jamie Steffan of Nittany Lion Inn, who took full advantage of the amount of wonderful plums available from the nearby Way Fruit Farm stand. While the plum gelatto, plum-thyme sorbet, plum and berry crisp with ginger snap crumble, and frozen plum souffle all nearly caused an overdose by plum, we really didn't care. It was too good.
Some of the other standout dishes included:
- Zach Lorber, Penn State Altoona: Chicken and morel mushroom egg crepe with goat cheese alfredo, potato and beet hash, corn and kale salad, and pickled onions…the potato and beet hash gave me an idea on what to do with the beets still in my garden.
- Sean Kelly, Kelly's: The roasted pork tenderloin with a fennel-garlic rub probably reason alone that Sean should ignore my giant arugula leaf suggestion from above.
- Lisa Palermo, Carnegie Inn and Spa: Lisa proved why Carnegie Inn and Spa is a destination for special occasion dining with her herb crusted pork tenderloin with a balsamic grilled peach salad, sweet tomato jam (wow, does this go well on pork), and roasted corn and goat cheese fritter.
- Craig Hamilton, Village at Penn State: Braised veal shank with sweet corn and cheddar polenta, tomato ratatouille and thyme jus…I really enjoyed the veal, but the polenta was a standout to me. The inclusion of fresh corn gave it a pleasant sweetness.
Author: Jamie Oberdick
Bio: Editor, Local Food Journey | Passionate about supporting local food in Central PA