Posted by Jamie Oberdick on 10/18, 2016 at 01:58 PM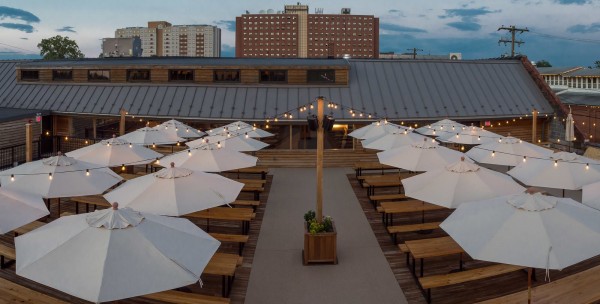 Editors Note: This article was originally written for inclusion in Passages, a journal of the Pennsylvania Association for Sustainable Agriculture.
So, you're at your favorite farm-to-table/local food hotspot, awaiting your meal. Let's say you ordered grilled rainbow trout, raised at a fish farm 15 miles down the road. On the side, you got garlic smashed potatoes made with ingredients that first sprouted at a farm 11 miles away, and a mixed sauteed vegetable dish that features veggies from a farmette just five miles down the road.
Sounds good and now you're hungry, right?
But have you ever considered the amount of work that goes into that plate of food? No doubt there is some seed planting, plant tending, and harvesting involved, but did you know there's even more involved than that?
The work involved getting that food on your fork extends beyond just the growing, harvest, and cooking, but also includes a lot of planning and ancillary things like marketing and social media work. An example of the extensive work involved to plate local food at a restaurant can be found at Millworks, a relatively new local food restaurant/brewpub located in Midtown Harrisburg.
To call Millworks a farm-to-table restaurant doesn't adequately cover exactly what it is. A better description would be a local food palace. Millworks is a 24,000 square-foot facility that features a restaurant, brewpub, and art gallery. "It's sort of a multi-faceted destination establishment," according to Joshua Kesler, owner of Millworks. "We seat 180 indoors and 240 outdoors, and feature a full-scale brewery and art from 35 working artists from 20 studios."
Millworks patrons can visit the art gallery/studio and not only check out the artwork, but also talk to the artists if they happen to be there. The building itself was a wood millwork factory, hence the name, and has an interesting local food connection via its location, next to the oldest continually operated farmers market in the country, the Broadstreet Market.
The challenge of being as sustainable as possible
The core mission of Millworks, Kesler said, is to use as much local sustainable product as possible. "We're just reaching our million dollar mark for product purchase by growers," he said. "That's across the board for all meats and veggies."
The first step of getting those tasty locally produced morsels to your fork involves planning. While it may seem like it could be as simple as checking with the farmer to see what is seasonal at the moment, other factors have to be considered. This often involves some research. Kesler and other locally focused restaurant owners will pay a visit to the farm. "What we do if we find a new producer is we'll talk to them, visit the farm, and find out what methodology they use to grow," he said.
"Typically with veggies we lean toward organic but that's not a requirement for us," Kesler said. "We just want to see people growing them in a responsible/sustainable method. We basically just get a good first hand view of the operation at the farm."
One such farm is Chester Stoltzfus's farm, Wholesome Living Acres, located in the rolling hills near Lykens, PA. The farm is certified organic, and if you've ever had an egg-based brunch item at Millworks, they came from his free-range hens. Stoltzfus doesn't just raise chickens and grow vegetables for Millworks, he works with Millworks to plan what he will grow for them.
"We sit down with the Millworks chef (Lance Smith, Millworks executive chef) at the beginning of the year before planting and talk about what we have in perennial crops (such as strawberries and asparagus) and what he'd like to see us grow in annual crops," Stoltzfus said.
Wholesome Living Acres, Stoltzfus said, used to be a larger operation that did wholesale vegetables but he scaled it back to do retail vegetables and supply for restaurants. To call Wholesome Living Acres a family farm would be quite accurate; the extensive work at the farm is done by four family members.
It's a year-round operation, and this year his farm produced fruits and vegetables such as asparagus, blackberries, raspberries, strawberries, tomatoes, and peppers. He said that the work involves planting, weeding, pest control, and remaining ever-vigilant for pitfalls such as plant diseases and garden pests. Then, he noted, there's a lot of work involved with harvesting, not just picking the vegetables but ensuring they are packaged properly for delivery.
"I just have my family members for help," Stoltzfus said. "We had a lot to do and there were some failed crops but overall the year was decent."
A few of the crops, such as onions and other root vegetables, need to be set into storage. Stoltzfus said he doesn't have the best storage facilities but they have these types of vegetables on hand for delivery into the fall. He said the produce work will include mixed greens this year, and that they have a number of greenhouses and high tunnels for this work. And of course, there's also the care for all those free-range chickens that make for some tasty egg dishes.
"They have a unique menu, and they certainly keep us busy, that's for sure," Stoltzfus said.
From the Chesapeake to the Pennsylvania countryside
Along with fresh produce and eggs, Millworks also locally source meat and fish. This includes seafood from the Chesapeake Bay, which has a long history of providing southern Pennsylvania with fresh fish and other seafood.
Their aquatic protein is not limited to Chesapeake seafood, in fact, they partner with a Pennsylvania source for fresh fish, Limestone Spring Fishing Preserve. Located near Lebanon, they provide Millworks with fresh rainbow trout. "They've been a very reliable partner of ours, their product is always fresh and comes in almost every day," Kesler said. "They've been one of the producers who really understand supplying a restaurant and the business needs that go with that."
Limestone Springs employs 12 people, according to Mark E. Ely, owner of Limestone Springs. Ely said that the facility is split into different areas. This includes a main farm where they raise the fish, a fish-for-a-fee fishing stream, and a processing room.
"We get them in as fingerlings about two inches long," Ely said. "Our workers go through the whole process of raising them, including when we start sort them for size for our customers as they grow larger. Then from there they go to the processing room. and are processed to the specs of the customer."
The fishery receives a shipment of 2-3" fingerlings four times a year. The fish are three months old when they arrive, and are put into raceways at the farm filled with spring water from an old limestone quarry. They feed the fish Skretting feed from Utah, which is a high-quality fish food, Ely said.
The Limestone Springs crew care for the fish over their time at Limestone Springs. It takes on average 16 months for the trout to reach 14", but Ely said trout are available anytime.
The Millworks gets their fish through a distributor, Kepler's Seafood, which services the Harrisburg area. "The MIllworks liked our fish, they get a special cuts," Ely said. "It's actually a boned product, which means we cut it and take the entrails out, keep the head on, cut down the belly, remove the rib cage and pin bones. They are left basically with a boneless whole fish. All you see is a slit up the belly and you can flip that open with meat on both sides."
They also do other processing including whole fish and fillets. They process roughly 3000 pounds of fish a week. "We're the largest commercial trout farm in PA and the only one that I know of that processes fish," Ely said.
Planning the menu
So, once the food is at Millworks, the kitchen crew work their magic. The menu is seasonal, so they not only adjust to the produce available but to changing tastes as the weather warms or cools. Some seasonal items even change within a season, like summer and it's varying availability of different fruit. "One of our desserts is a fruit cobbler, and we change the fruit based on what's available, like strawberry rhubarb, apples, pears, berries, and so on," Kesler said. "So we try to stay flexible on the creation of the dish so we can rotate product in without changing the dish."
Kelser said the kitchen staff considers factors when planning and preparing a menu other than availability of local ingredients. "You design a menu around what works," he said "There's amount of kitchen prep, there's food waste, and there's all of these economic drivers around a kitchen menu. You need a full strategy."
As for that planning process, Kelser said it's a small group who does it. He said the team that creates the menu is his wife, Rachael, Smith, the executive chef and himself. "My wife and I are just foodies at heart," he said.
To get people to Millworks to try out that menu, marketing is vital. Kesler said Millworks marketing is a team project. "We have to do internal marketing," he said. "We all work together on that."
They come up with innovative ways to market via partnerships. Kesler said anytime they visit a farm for any reason, they make sure good photos are taken and they share it with the farmer so those photos can be shared on the farm's website and social media. That way they can do cross promotion.
An example Kesler gave relates to the brewery part of their operation. Millworks' Farmhouse IPA beer is brewed with local malt from Deer Creek Malthouse in Glen Mills, PA, and fresh hops from Sunny Brae Hops Farm in Carlisle, PA. "So when we went to (Sunny Brae) and cut down the hops, we got some good photos," he said. "We did that to tell the story of the beer so the customer knows what went into it, and why they should be excited."
The rest of the restaurant staff such as the wait crew, Kelser said, have full buy-in on Millworks' mission and what they want to do. "We don't have to convince many people to come to work, they love what they do and they enjoy learning about what it is what we're doing," Kelser said.
Kesler said they even take the entire staff on field trips to farms. He said they took them out to see Stoltzfus' operation at Wholesome Living Farms. "It gives the staff an understanding of not just the farming aspect but who we are actually getting food from," he said. "I explain this to the chef the farms aren't nameless people, our buying habits can become very important to a family. They rely on our business as much as we rely on theirs."
"So after visiting and witnessing the work done and meeting the people, they can better understand that," Kesler added, "And they also understand the work that goes into the food they make and serve."
Author: Jamie Oberdick
Bio: Editor, Local Food Journey | Passionate about supporting local food in Central PA