Posted by Jordan Reabold on 03/28, 2014 at 12:32 AM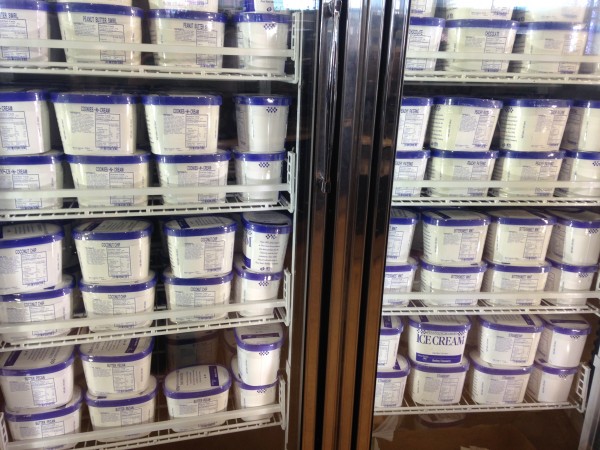 If there's one piece of advice people get when they visit State College, it's this: go to the Berkey Creamery. There's a reason why Penn State fans are lined up around the block during football weekends, willing to wait as long as they must for a cone of Peachy Paterno or a half gallon for the road. In fact, every time I visit home, I bring two half gallons with me; my family and friends can't get enough of it. While people from across the country can get Creamery ice cream delivered to them, it's a business that we'll always be proud to call local.
As often as we visit the Creamery, there's so much that a lot of people don't know about it. For instance, the proceeds from all sales contribute toward research, education, and extension programs in the Department of Food Science and the College of Agricultural Sciences. They make all dairy products on site—70 percent of the milk used comes from PSU cows, and the rest is from local farms. The milk arrives via tanker truck, and it is immediately tested for antibiotics, butterfat, and bacteria. Over 4.5 million pounds of milk is used every year on an assortment of cheeses, spreads, milk, yogurt, frozen yogurt, sherbet, and of course, ice cream. In order to ensure safety in the plant during any manufacturing process, all employees must follow the Good Manufacturing Practices.
All products require a different process, of course. You'd be surprised at the different requirements for ricotta cheese, cream cheese, and cheddar. To make cheddar cheese, the milk is heated and forms curds. Then, whey is removed, and the cheese is salted and formed into blocks. After being put under pressure and stored in the aging room for a few months, the cheese can finally be sold.
Thomas Palchak, Berkey Creamery manager, gives a simple description on how the ice cream is made. "Milk, cream and other ingredients are blended and standardized and this mix is sent to our pasteurization equipment to be heated and cooled," Palchak said. "The mix is flavored and then frozen and packaged."
This process, used since the Creamery began operating in 1865, creates over 1 million pounds annually, consisting of over one hundred flavors of ice cream. In fact, two or three new flavors are invented each year! While this may seem like quite a variety, the process is customary. "The flavoring of the ice cream is fairly standardized, all require about the same amount of time," says Thomas. "We make some flavors seasonally, and others make upon the request of housing and food services."
The Creamery offers about twenty hand-dipped flavors on any given day, and a variety of half gallons. In fact, the Creamery manufactures over 250,000 gallons of ice cream in a year, along with approximately 750,000 hand-dipped ice cream cones! In just one day, about 200 milkshakes are made.
The Creamery makes more than just dairy products. Although it is a portion of their production (about fifteen percent), they make iced tea, lemonade, and orange juice. Products from the Creamery are used by Housing and Food Services, included in 6 dining halls, 13 campus eateries, 2 hotels/conference centers, and the Bryce Jordan Center. Products from the Creamery can also be found at a few local restaurants. The Creamery itself offers items from other local businesses, such as sandwiches from Irving's, sticky buns from Ye Olde College Diner and salads from Fiddlehead.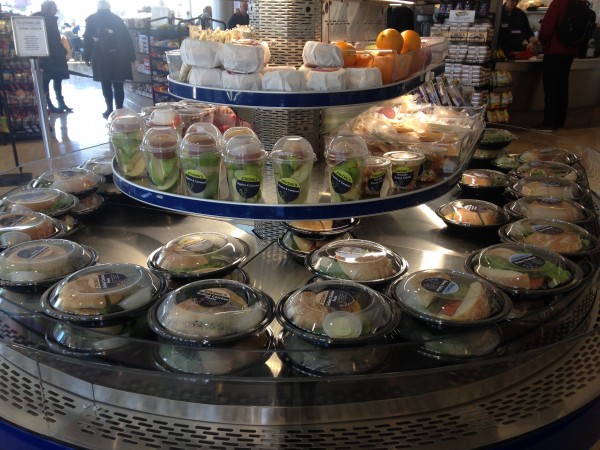 Sandwiches from Irving's are among the food items from local businesses that the Creamery sells.
Not to mention, the Creamery has undergone a number of research products since the '70s, including Dr. Bob's Strawberry Low Fat Yogurt Smoothie, which was created as another option to provide the human body with probiotic bacteria, significant to healthy digestion.
No matter what you're hungry for, the Creamery will leave you satisfied. Whether you want to start your day with a cup of coffee and a bagel, or you're craving a large Death by Chocolate milkshake, it's never a bad idea to stop by. Personally, I've never had an ice cream flavor I didn't like, and I've tried quite a few. Everything from the standard chocolate and vanilla to Creamery classics like Alumni Swirl and of course, WPSU Coffee Break, they're all delicious. Which flavor will you bring home next?
Author: Jordan Reabold
Bio: Tamaqua, Pennsylvania native - English major at Penn State - Loves cupcakes, coffee, and campfires"