Posted by Emily Wiley on 01/19, 2011 at 07:19 PM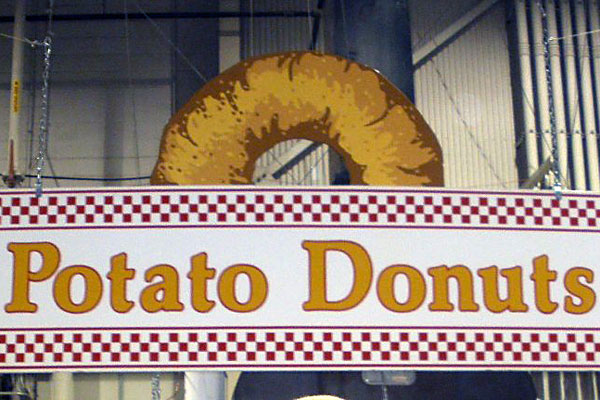 Food Courts usually don't thrill me. I'll walk on the other side of the mall just to avoid the little chicken teriyaki sample that's handed out at the Food Court. But, oh, the Food Court at the 2011 Pennsylvania Farm Show was different. Filled with booths that were staffed by various food agricultural organizations in Pennsylvania, and designed to highlight Pennsylvania food products, the offerings included pulled pork sandwiches, milk shakes with milk from local cows, apple dumplings, and more. Here are my top two picks:
1. Potato Donuts. There's nothing like a freshly made cake donut. And the Pennsylvania Co-operative of Potato Growers not only make these fluffy treats on site, but the recipe includes Pennsylvania potatoes. FANTASTIC. (About 20,000 dozen donuts were sold at last year's show.)
2. Maple Cotton Candy. My mother claims that when I was two-years-old, and being pushed in the stroller on the boardwalk at the shore, I cried and cried for cotton candy until they bought it for me. Supposedly, I then got it all over my clothes and made a real mess. I doubt this story. First, my parents never caved to crying. Second, they weren't into junk food at all. And third, I have never liked cotton candy. At all. Until now. The cotton candy at the Pennsylvania Maple Syrup Producers Council area was made from Pennsylvania maple syrup and cane sugar. Although it looks a bit like insulation, the flavor is maple-y and wonderful. Ha ha, mom and dad. I can buy my own cotton candy now.
What are your favorite memories from this year's Farm Show?
Author: Emily Wiley
Bio: WPSU Multimedia Producer | Wife and Mother | Lover of Food and Photography | One-Half of The Culinary Couple