Posted by Emily Wiley on 01/14, 2011 at 07:12 PM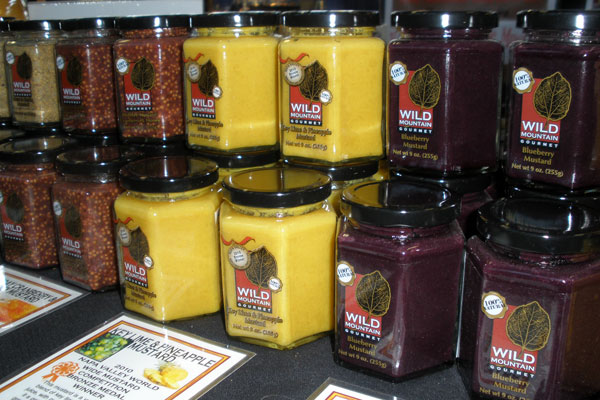 Prize winning apple pie, first place celery root, and a blue ribbon camouflage wedding gown are just a few of the things that can be found at the 2011 Pennsylvania Farm Show. It's great stuff.
But what I enjoy most is meeting local folks who own small food-related businesses. They make jams, hot sauces, spice rubs, and cheeses. So, for me, the Main Hall is a little slice of heaven.
Here are some of my favorite products from the exhibits: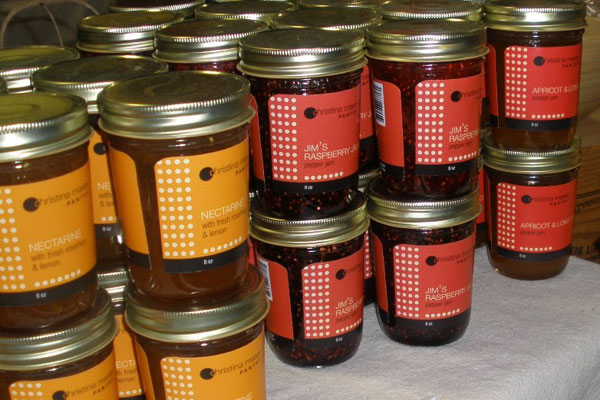 Christina Maser: I first discovered her soy candles at Lilypad in Lititz, and I've been swooning over owner Gretchen Maser's products ever since. Her White Bean Chicken Chili mix, Mediterranean Spice Rub, and Blueberry Basil Lemon Jam are just a few of the flavor-filled offerings. (And the packaging is sharp and contemporary.) Gretchen was at the show with her son, Neil, and her space took Best Market Place Display. Congratulations, Gretchen!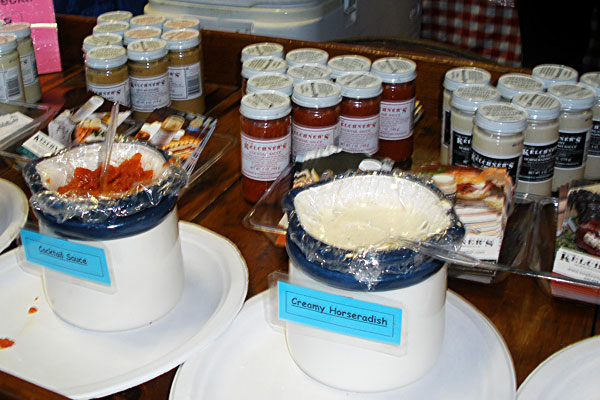 Kelchner's Horseradish: I've been a fan of this horseradish for a long time. It's second only to my dad's hand-grated version. (Sorry, dad has to hold the first place position.) I was so excited when Kelchner's became a staple at the Good Taste! Pittsburgh show and was thrilled to come across their booth at the Farm Show, where they were offering samples of their goodies, including the new creamy Horseradish Sauce. Yum.
Miller's Mustard: It's not just the name that I like (Miller, get it?), but the mustard is darn good. It won first place at the 2010 Fiery Foods International Gourmet Food. And it's made in Gibsonia in western Pennsylvania.
Farmstead Fresh Cheese: These products are made from organic raw milk from grass-fed cows. If you're new to raw milk cheese, the Colby, Yogurt, or Mozzarella varieties are good starting points. The Baby Swiss is a winner, too. Did you know that Pennsylvania is the second largest American producer of Swiss, at 10.7 million pounds per year? Holey moley!
Wild Mountain Gourmet: Wild Mountain's Sweet and Spicy Mustard was the 2010 Grand Champion at the Napa Valley World Mustard Competition. It's obviously good stuff.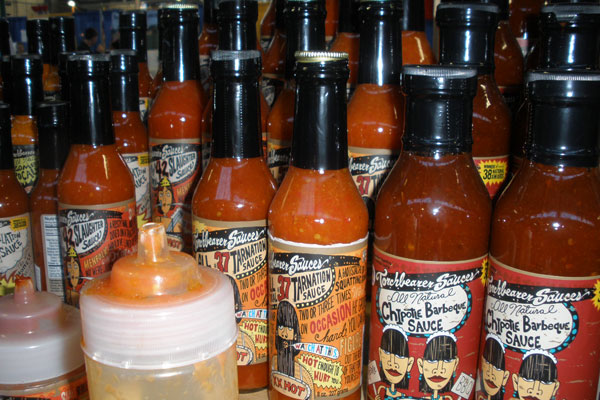 Torchbearer Sauces: These spicy hot sauces come from Mechanicsburg. Not for the timid, they have a real kick and have won several national awards. With names like Zombie Apocalypse and The Rapture, Torchbearer's goods would make a great Valentine's Day gift for your favorite "hottie."
What's your favorite Pennsylvania foodie treat?
Author: Emily Wiley
Bio: WPSU Multimedia Producer | Wife and Mother | Lover of Food and Photography | One-Half of The Culinary Couple