Posted by Cara McShane on 07/16, 2012 at 01:36 PM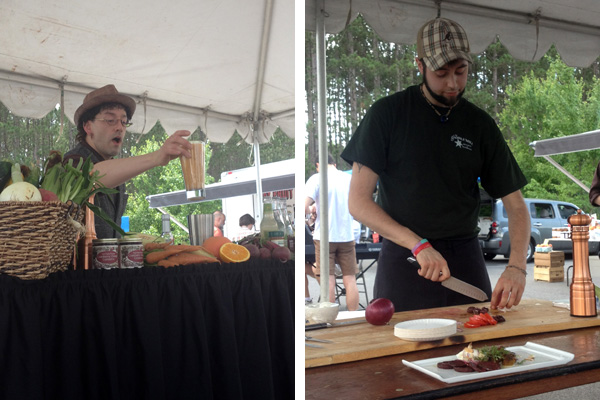 On Tuesday, July 10th, a crowd gathered at the Boalsburg Farmers Market for the second Learning Kitchen event. Sc'Eric Horner, beverage manager at Fuji & Jade Garden, demonstrated how to make "cocktails from the garden." And Nate Bruny, executive sous chef at Zola New World Bistro, showed how to make several dishes from market fresh vegetables.
Sc'Eric Horner kicked off the demonstration by mixing up and sampling three different cocktails, including a Sichuan-inspired carrot smoothie and a sangria using cranberry wine from the local Bee Kind Winery. He showed the audience how to make drinks using the available ingredients at the market, such as carrots and beets. He also incorporated ingredients that will be available at the market in the coming weeks, such as melons.
Horner made a spin-off of a drink recipe that won top honors for the Tanqueray T&T Competition, a search for America's best twist on a classic Gin and Tonic. He took the recipe, which uses beet-infused gin, and "played with it a little bit."
Horner said that when it comes to making cocktails, fresh ingredients are always better. He emphasized that it's "not about following recipes" but rather working with what you have on hand.
"It's all to your taste," Horner said. "Play around with it."
Nate Bruny taught attendees how to use vegetables from the farmers' market in several recipes, such as a salmon niçoise salad using green beans and a grilled Moroccan beet dish. He also demonstrated how to work with unusual vegetables like okra and kohlrabi.
Bruny suggested cutting okra in half lengthwise and stuffing with cheese and peppers. He said that kohlrabi, a root vegetable with a chestnut flavor, "can be treated as cabbage." He made a salad of kohlrabi and apples with a simple dressing ("as to not overpower the vegetables").
Bruny stressed the value of saving every part of the vegetable for use, whether as a garnish or in a stock. He said that the key to making any vegetable dish work is "seasoning, seasoning, seasoning."
See recipes from the previous Learning Kitchen event.
And mark your calendar! On Tuesday, August 7th, the Boalsburg Farmers Market will host the Golden Basket Chefs Competition. The event will feature nine local chefs preparing dishes using ingredients obtained at the market.
Author: Cara McShane
Bio: Penn State Journalism Student | Foodie & Health Enthusiast | Lover of Cooking, Music, and the Outdoors (especially when combined!)