Posted by Erin Donahue on 03/22, 2011 at 02:39 PM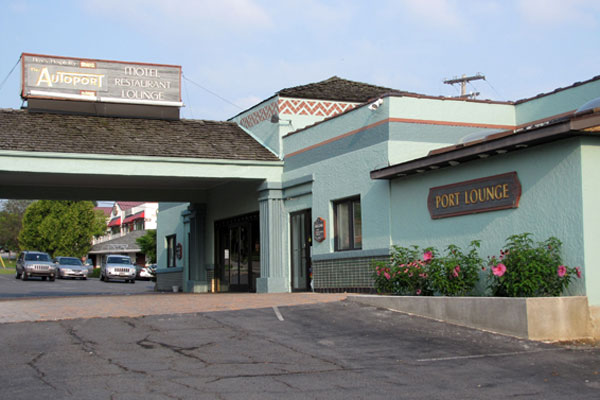 The Autoport on South Atherton Street has been a staple in State College for over 70 years. Since the 1940s, the Autoport has evolved from a service station that repairs cars into a restaurant and lodge. Today it has a reputation for serving fresh food and offering exceptional hospitality.
Walking into the lobby of the Autoport, we first noticed the welcoming decor. The atmosphere felt warm with dark wood and leopard print chairs. The bar had a similar style with metallic colored walls.
We had the option of sitting inside or outside on the deck. The deck at the Autoport has plenty of tables and chairs along with an outdoor bar and fire pit overlooking a pool. We chose to sit outside on that beautiful March day, which made our lunch even more enjoyable.
The lunch menu has a variety of appetizers, soups, salads, and sandwiches. I ordered the Turkey Bacon Melt with turkey, cheddar cheese, bacon, lettuce, tomato, and mayonnaise on wheat bread. Christina ordered a Maryland Crab Cake Sandwich with lettuce, and tomato. Along with our sandwiches, we got fresh, crunchy homemade potato chips.
The Autoport supports locally grown, organic produce and strives to use fresh seasonal ingredients when available. The restaurant works with Bergenblick Farm in Linden Hall, Green Grove Garden in Boalsburg, and Black Walnut Farm in Potter Township. They also buy from Hogs Galore, Fasta Ravioli Company, and Otto's Pub and Brewery.
The Autoport offers an extensive breakfast, lunch, dinner, and drinks menus, and they are also available for catering.
Author: Erin Donahue
Bio: Erin is a senior at Penn State majoring in broadcast journalism with a minor in sociology. She's excited to share her passion for food, writing, and multimedia.