Posted by Jamie Oberdick on 04/08, 2013 at 12:59 PM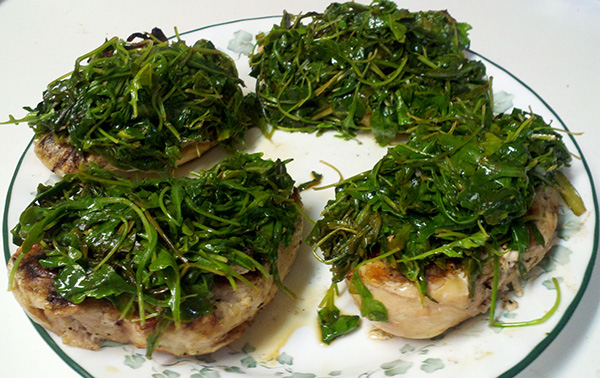 Well, what do you know. During the last several days the weather finally began to resemble spring after what was a pretty cold March, followed by a chilly start to April. Yesterday was especially nice and really got me thinking spring, a time of year that I just plain love.
There are two local-food related things that I love about spring time—the first fresh greens of the year and breaking out the grill. While a spring greens salad with a grill burger made from local beef is a nice way to kick off the spring season, I decided yesterday to try to combine greens and grilled meat in one dish.
I think I just may have pulled it off. Dinner for my wife and I last night was grilled chicken breasts topped with lemon/garlic wilted arugula. A simple combination of ingredients offers some tastes of spring; the grilled flavor of the chicken and the pungent, lemony kick of the arugula melded together nicely. It was also rather easy to make and it went well with roasted potatoes. I imagine it would be quite nice with rice pilaf.
So, if you have arugula in your CSA share, have encountered it recently at a farmer's market, or perhaps have grown your own, give this really simple recipe a try. Fire up the grill, because spring is finally here!
Ingredients
5 chicken breasts
8 oz. arugula, about 5 packed cups
1 half lemon
2 cloves garlic, minced
2 tablespoons extra virgin olive oil
salt and fresh-ground pepper
Directions
Brush chicken breasts with canola or other vegetable oil - it will help keep the chicken breasts from drying out. Salt the chicken breasts to taste, and grill on each side until done through. Remove chicken breasts and wrap in aluminum foil—this not only keeps them warm, but also keeps them moist. Heat olive oil over medium heat in a large skillet. Once heated, add garlic and stir constantly for about 2-3 minutes. Make sure you avoid browning the garlic. Add arugula and stir constantly until wilted, about 1-2 minutes. It will seem like a lot but will cook down. Once wilted, squeeze half lemon to add juice to the arugula, about 1 1/2 tablespoons. Add salt and fresh ground to taste. Stir and continue cooking for about another minute or so, remove from heat. Top each chicken breast with lemon/garlic arugula and spread over entire surface.
Tip: If you like, you can top with fresh-grated Romano cheese.
Author: Jamie Oberdick
Bio: Editor, Local Food Journey | Passionate about supporting local food in Central PA