Posted by Alexandrea Scott on 04/27, 2016 at 02:12 PM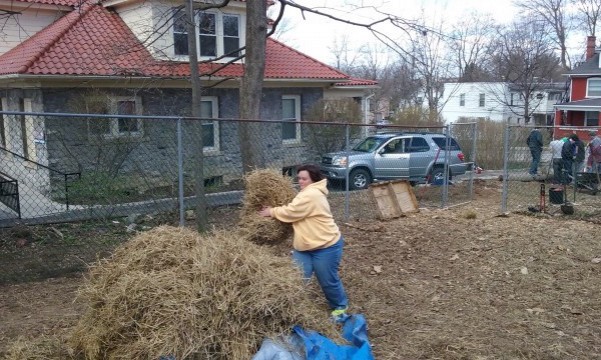 A true community garden, that will enrich the learning of adults with disabilities and provide healthy organic food for them and their families, is what can be found at Taproot Kitchen's Mazza Community Garden.
Taproot Kitchen was founded about a year ago. Sharon Schafer dreamed up the idea for Taproot Kitchen, but she wants credit given to everyone who is involved, including Jackie Bonomo, Woody Wilson, and Spring Creek Homesteading, who have all played important roles. They also received a lot of advice from Cutting Edge Tree Professionals.
Sharon was motivated by her son, who has autism, and she really just wanted a place for adults with disabilities to go and learn about gardening, cooking, and her ultimate goal, to create an area to inspire them.
Since spring has finally just sprung, they are still in the process of planting, cleaning up, and preparing for all of the plots. The variety in this garden really makes it stand out. Along with the food garden, they offer an orchard, butterfly garden, and a pollinator garden.
It also has plenty health benefits that come along with participating. They don't use any chemicals on their plants, so everything grown is organic. The coolest thing is they even have their own chickens on site. As Sharon say, it is always a good idea to eat healthy.
Boy scouts, educational groups, and a local preschool are some groups that have worked and harvested the garden. The preschool has plans to build a playhouse this summer as well.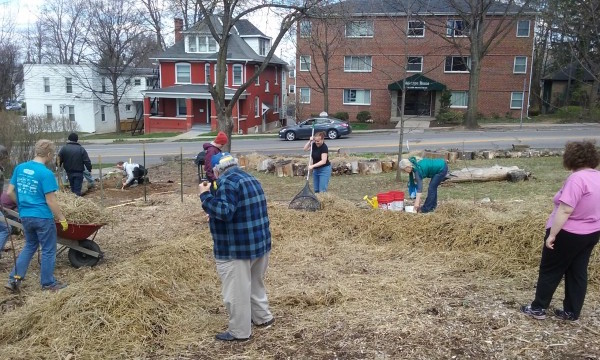 Volunteers spread mulch at Taproot Kitchen's community garden.

If you're interested in joining, every Tuesday night they gather together and cook around 7:00 p.m. at The Meeting House at 318 South Atherton St. Sharon says that they are always looking for volunteers and people who are happy to help in the garden.
To get involved and learn more, email .(JavaScript must be enabled to view this email address) or visit their website.
Author: Alexandrea Scott
Bio: Penn State Broadcast Journalism • Coffee & red lipstick • Travel addict