Posted by Jordan Reabold on 02/06, 2014 at 02:03 PM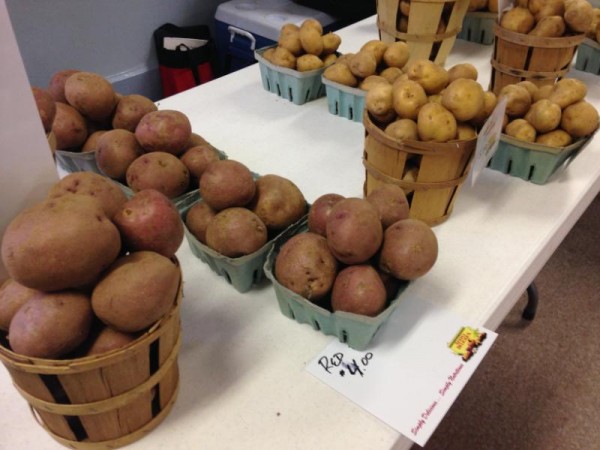 Winter certainly takes a toll on us here in Happy Valley. From below freezing temperatures to painfully bitter winds, winter weather conditions require us to adapt and prepare accordingly. While you may think that the months of December through March leave local farmers with little to harvest, this is not the case. In fact, farmers throughout Centre County are finding innovative ways to grow vegetables during the winter months, despite the chill that would typically inhibit certain plants to grow. Plus, you don't have to look far to find these vegetables available to you, for they're being sold every Tuesday at the Boalsburg Farmers Market!
While the market is held outdoors from May through mid-November at the Pennsylvania Military Museum, you can still support the vendors at St. John's Church in Boalsburg throughout the winter. As for what's available, "There are always apples and potatoes," says Janet Robinson, speaking on behalf of the market as a whole, which includes about a dozen vendors.
Specific vendors vary in terms of their supply, of course. Therefore, as Janet notes, "Other farmers supply root crops and squashes until they run out. Some are doing greens well into the winter season."
That being said, you can find quite a variety of produce, even in the winter cold. Harvesting food throughout the winter is surely difficult, but farmers are doing all they can in order to make their produce available to the community. Although some vegetables simply cannot grow during the winter, Janet points out. "Some [farmers] are experimenting with ways to extend the season with low tunnels and hoop houses," she said.
If you're unfamiliar with this method , it's a way for farmers to insulate crops that grow low to the ground, such as lettuce and beets, by covering them with a tunnel-like structure, often made with PVC pipes and sheets of thick plastic. While the soil absorbs heat from the sun throughout the day, the tunnel encloses this warmth at night while protecting the plants from frost and animals.
Not only are farmers at the Boalsburg market increasing their usual supply, but they're preserving it as well. "Some vendors can their produce, such as beets, and sell them that way," Jennifer said.
Therefore, the crops they harvest, regardless of the season, are given a longer shelf life. This is especially helpful to those who can't make it to the market as often as they wish, for they can stock their pantry with cans of local items for weeks at a time, providing convenient produce until they are able to return to the Boalsburg Market.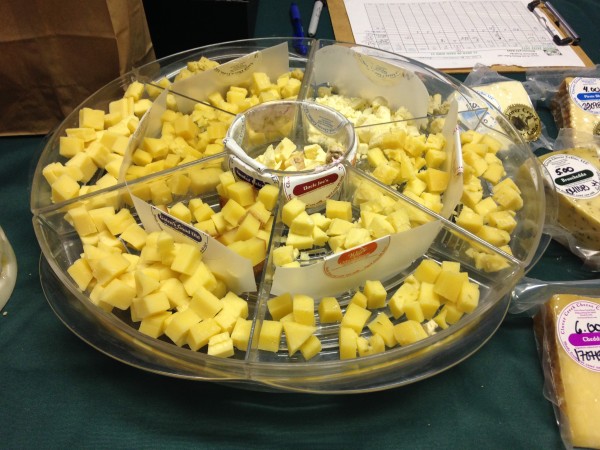 Free samples of Clover Creek cheese might be worth the trip to the Boalsburg Farmers Market on its own.
Of course, the Boalsburg Farmers Market offers more than just veggies. According to Janet, "We have meat, milk and dairy products, cheese, canned goods, baked goods, salmon, and hot sauce."
Clearly, providing your family with locally made meals during the winter is not as difficult as you may presume. Janet assures me, "Local businesses can get to know their customers' likes and dislikes and can change or adapt to meet their needs. People are also more likely to buy something new and different and perhaps, in return, more nutritional at a farmers' market because there's someone right there to tell them about it."
Upon recently visiting the farmer's market myself, I found this to be true. The butternut squash ravioli I purchased was absolutely phenomenal, and I can't wait to go back next week for more! Not to mention, it was great to know that my cash was put in the hands of a local business, rather than a chain grocery store. This is something the vendors of the Boalsburg market value extensively, and Janet finds great pride in the market's impact on our community: "We're boosting the local economy by supporting family farms and local businesses, our own friends and neighbors… you can count on it being safer, in general, because the farmer is dealing directly with the customer, which sets up an accountability that you don't get with the mega-farms," she insists.
If you have yet to attend the Boalsburg Farmers Market, it's a great idea to do so. "We advertise in various places and have a very dedicated customer base," Janet tells me.
When I visited, every vendor was exceptionally friendly, not to mention helpful, so it's no wonder their customers take advantage of the Market on a weekly basis. When asked if she feels as though more people of the State College community should take advantage of the Boalsburg farmer's market, Janet replied, "Emphatically, yes! I think there are still people out there who have an unclear concept of a farmers' market, and am sure that once they get into the habit, they'll be glad they did!"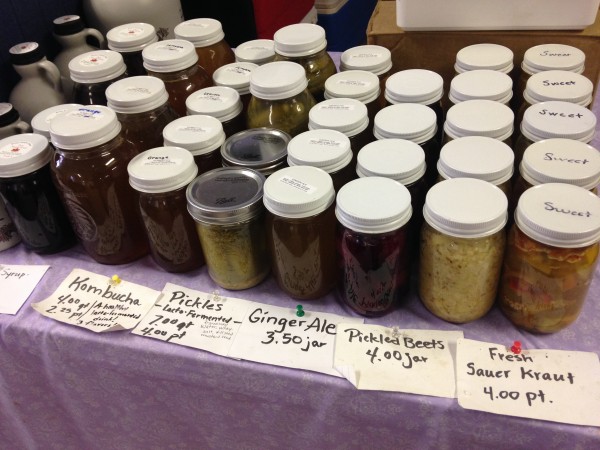 Homemade ginger ale in a jar is definitely old-school. You can find this and other canned delicacies at the Beiler Family Farm stand.
Author: Jordan Reabold
Bio: Tamaqua, Pennsylvania native - English major at Penn State - Loves cupcakes, coffee, and campfires"