Posted by Jamie Oberdick on 12/18, 2013 at 05:00 PM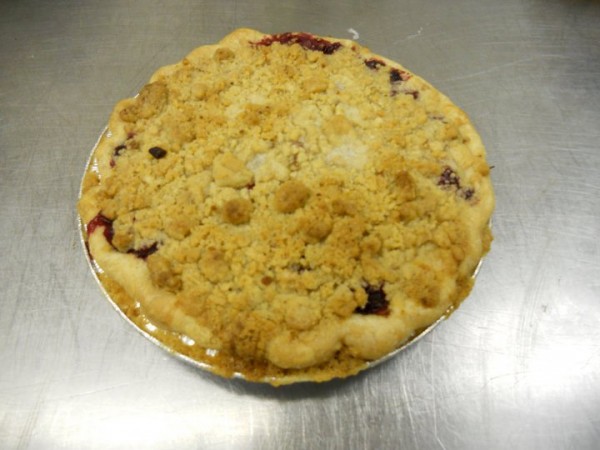 Gemelli Bakers has made a name for itself by baking wonderful bread. However, they also make some fantastic desserts. Gemelli is not as well known as a source for great baked desserts, but more and more people in the area are becoming aware of the sweet goodness that they offer at their downtown State College location, or at area farmers markets.
"We've been making desserts from day one," said Tony Sapia, owner of Gemelli Bakers. "A few examples of what we bake include Italian cookies like biscotti and macaroon, American-style cookies like oatmeal raisin and chocolate chip, apricot fruit bars, pies…there's quite a list."
The items Gemelli produces include classic baked goods like vanilla pound cake, which is a farmers market favorite since it goes so well with fresh berries, and more exotic offerings like sachertorte, the famous Austrian chocolate cake.
Sapia said the crew who makes these desserts is basically the same crew who makes the bread with one exception. "Some of the speciality things such as custom cakes, mocha tortes, creme brulees, stuff like that, was made by Charles Niedermyer, who is a baking instructor at Pennsylvania College of Technology," he said. "He's been with me for two years and he's really taken upon himself to make the specialty stuff. But we all work together and the bread crew makes some of the sweets and vice versa."
While the Gemelli Bakers downtown location has a lot of these desserts for sale, many of them can be purchased at farmers markets, with a caveat. "A lot of our sweets need to travel well," Sapia said. "Bread travels well, but things that can be packed individually also travel well. The brownies, the raspberry bars, the pound cakes, the real butter cream filling or cannolis, they don't travel well. Because number one, you need refrigeration which we don't have available at the different farmers markets."
"So a lot of our stuff, like granola, biscotti, macaroons, cookies, all that stuff travels very very well without refrigeration," Sapia added.
During the holidays, Sapia said they are busy baking all kinds of desserts for sale, and said people can call them to order something for the Christmas table. For certain items, like pies and some of the cultural items, Gemelli needs about 72 hours lead time.
"We want all of our orders in by next Saturday to be available for pick up on Dec 24," Sapia said.
As for what they are offering, Sapia offered a few amazing-sounding examples. "We're doing a classic apple pie, it has in excess of 5 lbs of fruit in each pie, believe it or not," he said. "The whole thing weighs almost 8 pounds. Also, we're doing a peanut butter mousse pie, it's the real deal with really a nice whip cream topping. Plus, we are doing New York cheesecake, it's a true classic."
For those with more adventurous tastes, Sapia said they are baking some cultural specialties that fit the season. "We're offering an Italian rum cake, which is a holiday favorite in Italy as well as Brooklyn, Chicago, and Pittsburgh during the holiday time," Sapia said. "We are also doing a tiramisu, very light, not too rich. You sometimes want something that's not too rich, that's light on the palate, because you are going to have a lot of heavy eating going on. Just like at Thanksgiving, you're going to have ham and turkey, or roast beef, whatever your family makes. So you might not want to have heavy desserts."
Many of the desserts Gemelli will be baking for the holidays are steeped in rich tradition. Panettone is a traditional fruit bread and is very rich, with lots of butter, sugar, egg yoke, and candied oranges and golden raisins. The cake-like bread is baked in a round pan.
"Panettone is just great on a Sunday morning, you cut it into wedges and it's something the entire family can enjoy," Sapia said. "Also, we make stollen, which we bake in the German tradition. It's an eastern European- or German-style fruit bread, lots of cranberries, raisins, candied lemon in it. The shape we work it in is supposed to represent little baby Jesus in swaddling clothes. It has a center of marzipan, which is almond paste."
Food like this, Sapia said, is all about tradition. "It's what families take to each other and share," Sapia said. "Have a nice little slice and have some tea. Catch up on good times and what not."
While all this baking is a lot of work, Sapia said that he loves this time of year at Gemelli. "That's the time we love to make those sorts of things," Sapia said. "It's just a fun time to be a baker."
Author: Jamie Oberdick
Bio: Editor, Local Food Journey | Passionate about supporting local food in Central PA