Posted by Emily Wiley on 11/21, 2011 at 07:30 PM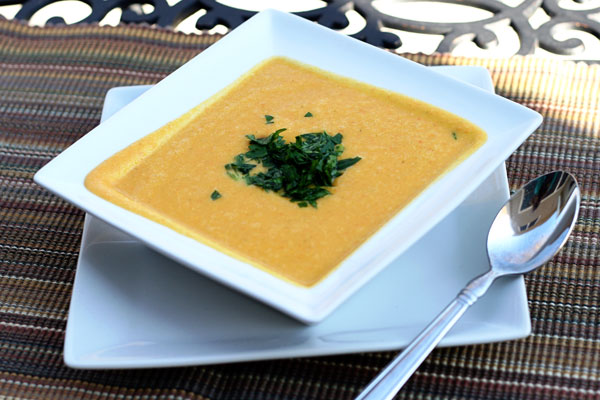 This thick and creamy soup is full of some of the season's best flavors and would make any Thanksgiving table a more festive one.
The list of ingredients is short: sweet potatoes and tart apples; onion, celery, and carrot; chicken broth and cream; lemon, cinnamon, and parsley. And it just takes a bit of roasting, sautéeing, blending, and stirring. Garnish, serve hot, and watch your guests enjoy!
Are you serving a soup on Thanksgiving Day?
Ingredients
2 large sweet potatoes, peeled and chopped
2 large tart apples (like Ginger Gold), peeled and chopped
2 Tbsp extra-virgin olive oil
1 onion, chopped
2 stalks celery, chopped
1 large carrot, chopped
1 bay leaf
5 cups chicken broth
1 cup cream
1 lemon, zested and juiced
salt and pepper to taste
cinnamon to taste
handful of parsley
Directions
Preheat oven to 400°F. Place sweet potatoes and apples on a baking sheet lined with foil. Sprinkle with cinnamon and roast for about 30 minutes, or until tender.
Heat olive oil in a large pot over medium heat. Add onion, celery, carrot, and bay leaf. Sauté until tender. Remove bay leaf and discard. Pour in chicken broth and add sweet potatoes and apples. Puree in batches using a blender, or use an immersible blender to puree in pot.
Return soup to pot. Add cream, lemon zest, and lemon juice. Taste and season with salt, pepper, and cinnamon. Heat through, but do not boil. Ladle into serving bowls and garnish with parsley.
(Adapted from AllRecipes.com)
Author: Emily Wiley
Bio: WPSU Multimedia Producer | Wife and Mother | Lover of Food and Photography | One-Half of The Culinary Couple