Posted by Jamie Oberdick on 10/19, 2017 at 09:59 AM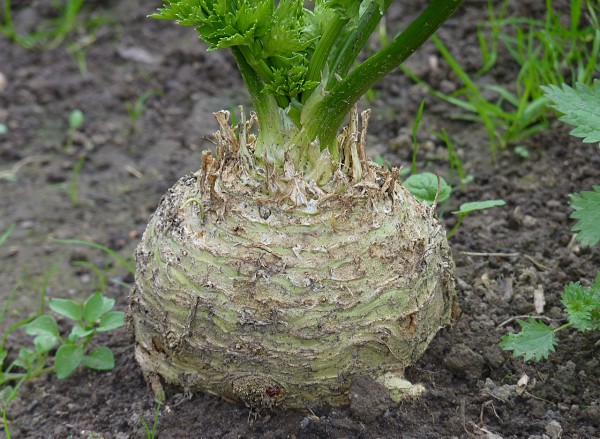 Never judge a book by its cover. And never judge a vegetable by its exterior.
A great example of this is celeriac. You may have seen it at the grocery store or farmers' market. Its rough, brown, kind of hairy exterior causes a lot of people to scrunch up their face and move on.
But ignoring the celeriac based on looks means you are missing out on a delicious vegetable.
Celeriac is a root vegetable. In fact, it is the root of a particular variety of celery that is grown specifically for that bumpy, rough-looking root.
The flavor of celeriac is nutty, mild, and celery-like. Three are all sorts of ways to prepare it, including mashed, pureed, stews, steamed, roasted, fried, and even raw in salads. An added bonus is it is very good for you, a good source of dietary fiber, vitamin B6, magnesium, and manganese, and a very good source of vitamin C, vitamin K, phosphorus, and potassium.
I prefer to roast celeriac. Like most root vegetables, roasting ups the sweetness level. The following recipe roasts celeriac with herbs, and a finishing sprinkle of grated parmesan cheese:
Roasted Celeriac with Herbs and Parmesan Cheese
Ingredients
4 celeriacs, peeled, halved and cut into inch-thick wedges
5 tbsp olive oil
4 garlic cloves, peeled
6-7 sprigs of thyme
1 tablespoon minced parsley
Salt and pepper to taste
1/2 cup of grated parmesan cheese
Steps
- Preheat oven to 400°F
- Place the celeriac in a bowl with salt, pepper, herbs, and the olive oil, toss until well coated.
- Spread the wedges on a baking sheet in a single layer
- Lightly smash the garlic cloves with the side of a knife and place on baking sheet.
- Roast for 30 to 40 minutes, turning once halfway during the roasting time. Once they become golden and tender, they are ready to serve.
Author: Jamie Oberdick
Bio: Editor, Local Food Journey | Passionate about supporting local food in Central PA