Posted by LacCreta Holland on 06/19, 2015 at 02:27 PM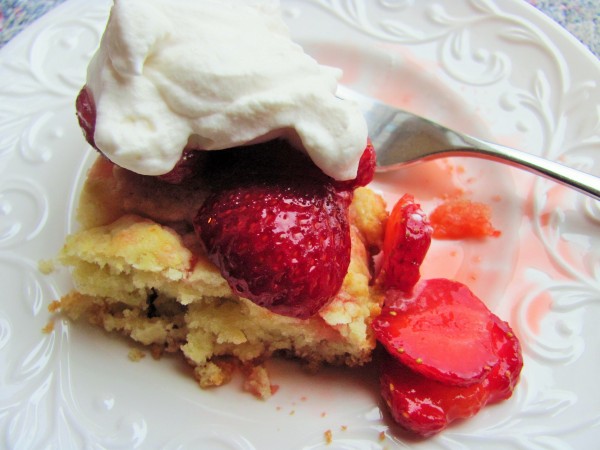 It's strawberry season and I could not be happier! The strawberries in my garden are ripe enough to pick everyday, despite the chipmunk that wants to eat them—he sometimes sneaks under our chicken wire fence to sample a few! The strawberries look lovely at the various farmers markets and the PA strawberries that are being sold in local grocery stores are plump and juicy!
Way Fruit Farm is a great place to take the family for strawberry picking. But with all the rain, the strawberries might have a shorter season this year, as a recent e-mail from them informed. So get there soon for the best berries.
I have made a lot of recipes in the past two weeks with strawberries. But the first strawberries of the season in our house always has to be prepared for shortcake!
This is the recipe that we love. Shortcake is a very easy way to enjoy strawberries, especially with a dollop of whipped Meyer cream on top!
Strawberry Shortcake

(adapted from Food Network)
Ingredients
2 cups flour
2 teaspoons baking powder
1/4 teaspoon baking soda
2 Tablespoons sugar
3/4 teaspoon salt
1 and 1/2 cups Meyer's Dairy heavy cream
Steps
- Preheat the oven to 400 degrees.
- Mix together in a bowl with a fork the flour, baking powder, baking soda, sugar, and salt. Add the heavy cream and mix until just combined. Place the dough in an ungreased 8-inch square pan and bake 18-20 minutes, until golden in color.
- Let cool for 10 minutes. Take the shortcake from the pan and place on a rack to continue cooling. Cut into 6 pieces and split each piece in half horizontally.
- Slice strawberries and spoon them on top of the shortcake bottom. Place the top on the strawberries and the top the shortbread with whipped Meyer cream. Enjoy the taste of late spring!

Look for other strawberry recipes on my website: www.happyvalleylearntocook.com
Author: LacCreta Holland
Bio: LaCreta Holland—views on life and food change when you have lived in Italy--believes that good smells from the kitchen make people happy---loves to teach people to cook through my business Happy Valley Learn to Cook