Posted by Jamie Oberdick on 02/16, 2017 at 03:38 PM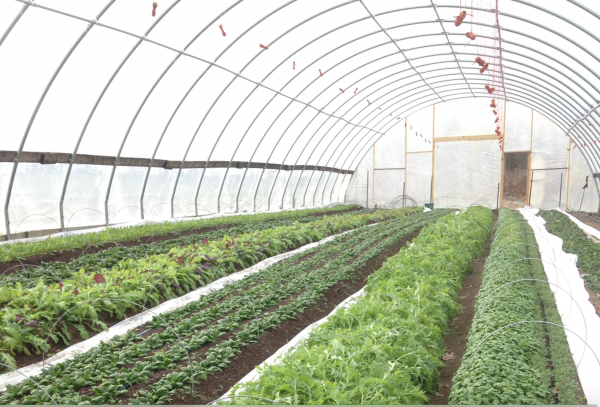 As our central Pennsylvania winter slogs onward into the home stretch, have you ever wondered what vegetable/fruit farmers do during the cold months? While things slow down, farmers do not exactly sit around and watch Netflix. They have plenty of chores, and even grow and harvest things.
David Hopey, farm manager for Tait Farm, has lots to do in the winter months. Thanks to high tunnels, Tait Farm can grow more cold-hardy plants and harvest them weekly. "We are a four season farm meaning we grow and harvest crops year round," Hopey said. "Crops grown in the winter are mainly leafy greens, such as spinach, arugula, mustard greens, claytonia, kale, collards as well as scallions and leeks. All of these crops can be grown in winter in our climate without supplemental heat. These crops are able to grow through winter so long as they are grown in hoop houses or low tunnels."
Along with harvesting, washing, and packing this produce, Hopey said they need to do other work to make sure the greens are growing. Along with the usual stuff such as watering, they also need to do daily ventilation and temperature monitoring of their hoop houses and low tunnels.
Along with the fresh-grown greens and such, Tait Farm also harvests a large amount of root crops such as carrots, beets, onions, garlic, celeriac, and radishes. These are then stored in a walk-in cooler and washed and packed each week for various markets. This way, Hopey said, they can offer root vegetables until about May, when spring root crops come in.
Thanks to this work, winter CSA members get quite a variety, Hopey said. "They get potatoes, onions, garlic, kale, spinach or salad greens, carrots, beets, radishes, winter squash, leeks, cabbage, and herbs such as parsley, thyme, rosemary, or cilantro," he said.
Along with growing vegetables and harvesting, there are plenty of other farm chores, Hopey said. This includes maintenance of things such as tractors, equipment, irrigation systems, and other growing supplies. They also do early prep for spring by spreading compost on the fields.
Then there is the business and crop planning. Hopey said they figure out crop rotations and amounts of each crop to grow based on previous sales records. They also adjust the timing on crop production to better meet seasonal market demand. Then, Tait Farm staff tests the soil to determine soil fertility for next season.
They also have to remain vigilant for snow and ice. Winter accumulations of precipitation can damage hoophouses and prevent crop access to sun and warmth.
But once they get the work of winter mostly done, it's time to think about spring. As days get longer and milder, Hopey said, work beings to get ready for a new farming season. "Field preparation in spring can be completed anytime between March and April, depending on soil moisture conditions," he said "Crops don't go in the field until late April at the earliest. Smaller scale early planting can be complete in protected hoophouses before late April."
While there is plenty of work, Hopey said that along with renewing the farm for a new season, the slower pace of winter also helps him renew as well. "It wasn't until I started farming that winter became my favorite season," Hopey said. "Crop growth and tasks slow down to a manageable pace in winter, allowing time and space for physical and mental renewal. The best part is getting to spend more time with my family."
Author: Jamie Oberdick
Bio: Editor, Local Food Journey | Passionate about supporting local food in Central PA