Posted by Jamie Oberdick on 06/26, 2014 at 01:59 PM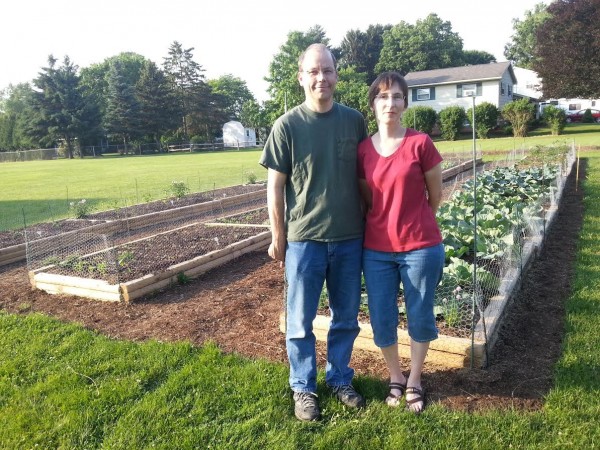 Two members of the Mount Nittany United Methodist Church have led an effort to create a "Giving Garden" on the church grounds to help address the issue of hunger in our community.
Robert and Joanna Jones of State College got a double dose of inspiration from the documentary "A Place At the Table", about food shortages in the United States, and a TED Talk by fashion designer and activist Ron Finley about guerrilla gardening in South Central Los Angeles. So, they decided to take action themselves and help address our local food shortages here in Central Pennsylvania with local food from a garden on the church grounds.
"Our bishop asked us rather than to look at other churches and think 'wow they're doing a great job we should do that', we look at what we can do and look at our church's yard," Joanna said. "We have a really big yard, we could build a really good garden and so in January we started talking about what we needed, what we knew, and those sorts of things. We started this year. Our goal for this year was just to be able to put the beds in, so we exceeded our expectations already."
Given how the Giving Garden looks already during a mid-June visit, they definitely have exceeded expectations. Getting it to this point was a group effort within the congregation, Robert said. "We put a notice in the church bulletin asking for help," he said. "We met a few times to decide how big and what to grow. We just started meeting out here to build the beds and to plant and now we're in the weeding and harvesting stage."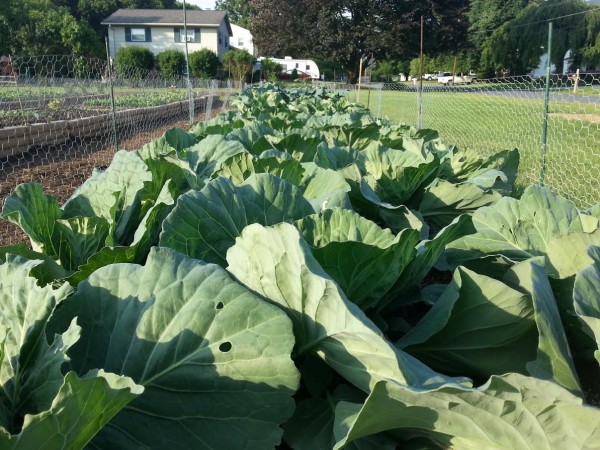 Cabbage nearing harvest time in the Giving Garden.
"Once we had the beds built, we had to get the dirt into them," Joanna said. "We told them we'll do it as soon as it stops raining. And then we asked for help. So, after church someone comes up to me and says I have a Bobcat, I'll just bring it up from Port Matilda and we'll dump all the dirt in. One of our congregates, who mows the lawn, offered to help as well. During one of the hot days earlier this spring the two of them came out and it was like magic, we came out one day and there it was, finished and ready beds."
Robert noted that anytime they needed something to create the Giving Garden, someone has stepped up. The dirt in the beds was donated by Hawbaker Recycling, Scott's Landscaping gave them free delivery on the compost they put in the bed, and Home Depot gave them a discount on materials. Plants and seeds were donated by Bellefonte's Garden Genetics, who are connected to the church via some parishioners. "We're growing beets, turnips, radishes, cilantro, dill, peppers, squash, zucchini, green beans, cucumbers, lettuce, pak choy, tomatoes, cauliflower, broccoli, and cabbage," Joanna said. "More veggies will be replanted when some get harvested. The corners of all the beds are planted with herbs."
As for who gets the food in the garden, Joanna and Robert said they did a fair amount of outreach to partner with organizations to act as distributors of the produce. They talked to the State College Food Bank, but they have specific needs that made it difficult to meet via the garden since they weren't sure what they might be able to grow successfully.
They talked to the Houserville United Methodist Church and found out that they do a Saturday morning giveaway for young families in need, including baby food, etc. They agreed to include baskets of produce as part of the packages. Other clients include the Stormbreak Center of the Youth Services Bureau, and the Women's Resource Center shelter. "Anyone else that comes along or is in the congregation who are having to make hard choices are welcome to the garden produce, and they can get it without having to do any paperwork," Joanna said. "We just want it to be simple."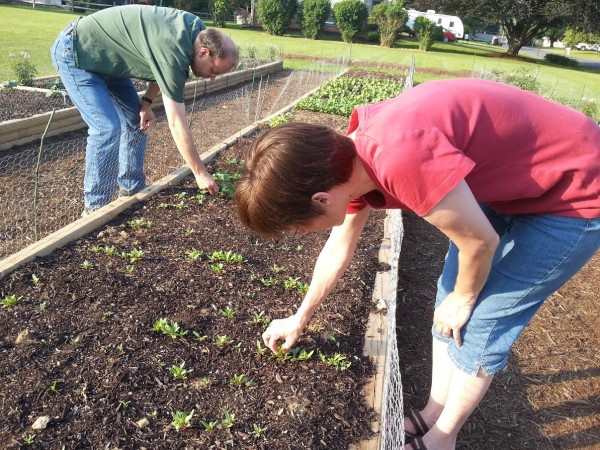 Robert and Joanna thinning recently planted chard
As for the future of the Giving Garden, Robert and Joanna said they are looking at expansion as much as the church allows, given the yard is used for other activities. "There's an Eagle Scout we know who wants to double the size of our beds," Robert said.
"I think we should have a bench, and I'd love to run a nice flag up the nearby flagpole," Joanna added.
As for advice for churches and other organizations who want to start their own Giving Gardens, Joanna and Robert basically said just go for it and don't overthink it.
"I'd say don't be afraid to try it," Joanna said. "This is a big experiment and we're going to learn as we go, with low pressure. I also recommend that we don't have lots of plans with lots of signup sheets, just say 'lets come out and garden.' What works, we'll keep doing, what doesn't, we'll try something else. But so far, things are really going well."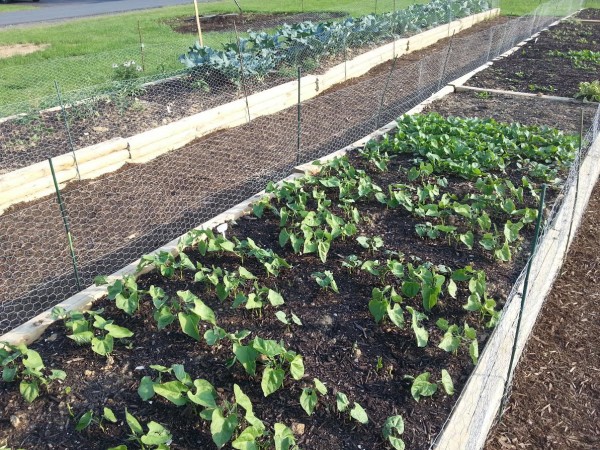 Beans on their way to being food for those in our area in need.
Author: Jamie Oberdick
Bio: Editor, Local Food Journey | Passionate about supporting local food in Central PA