Posted by Jamie Oberdick on 03/16, 2012 at 11:59 AM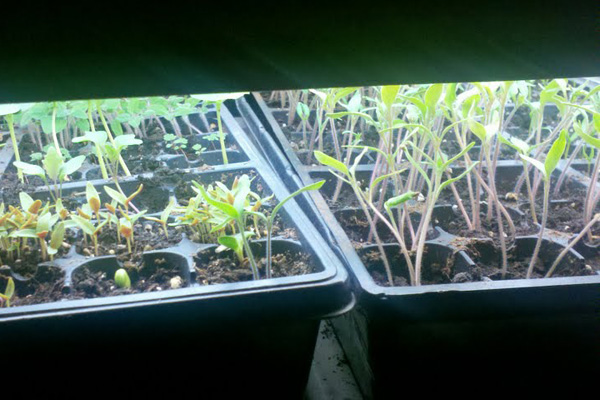 The weather has been warm lately, warm enough to start thinking about gardening. However, while the mild weather is great for daffodils, crocuses, and forsythia, it's still too chilly to plant vegetables, especially frost-sensitive types like tomatoes and beans. You want to hold off planting those outside until early-mid May.
Some vegetables you can sow directly into the garden, but if you want to grow veggies from seed, you need to start indoors in March or April.
Starting seeds indoors is quite simple. You can do it in a spare room, the basement, or a sun room. The setup is easy.
You will need:
a bag of either potting soil or seed starting medium
a set of plastic celled trays (known as cell flats), preferably with a clear plastic hood
a folding table or set of shelves
and one or two long fluorescent shop lights fitted with one daylight bulb and one cool white bulb; you want to set up so you can hang the fluorescent lights from the ceiling just above the plants
plastic spray bottle to keep the soil wet
Next, find a suitable spot in your home. You may think a sunny window sill is a good spot, but a window sill is actually not a good place to start seeds. The temperature varies too much, and you won't be able to get consistent light. If the seedlings don't get any light, they will become "leggy." This doesn't mean your seedlings will sport little plant legs, but instead, the seedling stem will grow long and weak due to lack of sufficient light.
You want a place with a consistent temperature, which is why I suggest using shop lights. Or, if you like, you can purchase a seed starting mat. This is a heated mat that raises the temperature of the soil in the cells and keeps it consistent.
Finally, if you are going to set up in a room that doesn't stay warm or is drafty, an electric heater is also a good idea.
Of course, you also need seeds. If you didn't order any, then you can buy them now from Wal-Mart, your neighborhood grocery store, or your local garden center. In my next blog post, you will learn how to plant and care for your seeds.
Author: Jamie Oberdick
Bio: Editor, Local Food Journey | Passionate about supporting local food in Central PA