Posted by LacCreta Holland on 06/02, 2015 at 02:51 PM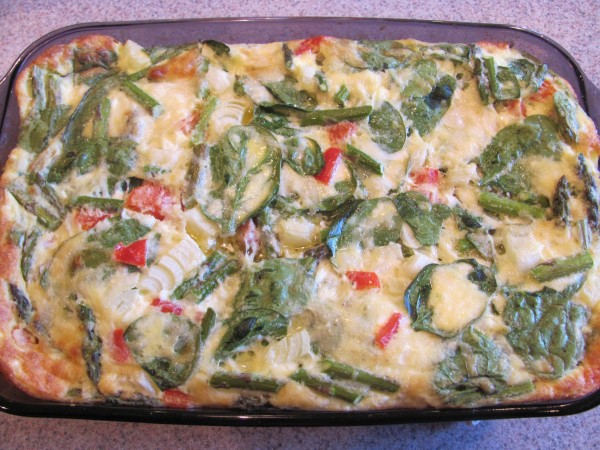 Memorial Day is over. The Northern and Southern guns at the Boalsburg Cemetery are silent, the homemade pies are eaten, and the carnival rides are gone out at Boalsburg's Memorial Day celebration. But summer is coming with all its fun and wonderful garden bounties.
As spring fades into summer, be sure to make this easy breakfast casserole filled with healthy veggies from the local farmers markets before all the fresh spring vegetables are gone. Try this for your next large group gathering, family reunion, or anytime there are lots of people (or a few teenagers) to feed!
Spring Veggie Breakfast Casserole
Serves 18

Ingredients
- 1/4 cup butter
- 18 eggs (yes 18, that's right—it's not a typo!!)
- 1 cup sour cream
- 1 cup milk
- 1/4 cup chopped red pepper
- 1 small onion, chopped
- 2 handfuls baby spinach
- 1/2 pound asparagus, cleaned, ends trimmed, cut into pieces
- 2 cups Cheddar cheese, grated
- 1 teaspoon salt (or to taste)
Steps
- Preheat the oven to 350 degrees.
- Melt the butter in a 9 x 13 inch pan.
- Mix together the eggs, sour cream, and milk.
- Add the remaining ingredients.
- Pour in the pan containing the butter.
- Bake for 40-50 minutes, until top edges are golden brown and the middle is firm and a tip of knife inserted into the center of the casserole comes out clean.
Author: LacCreta Holland
Bio: LaCreta Holland—views on life and food change when you have lived in Italy--believes that good smells from the kitchen make people happy---loves to teach people to cook through my business Happy Valley Learn to Cook