Posted by Kristin Camplese on 04/27, 2012 at 10:54 AM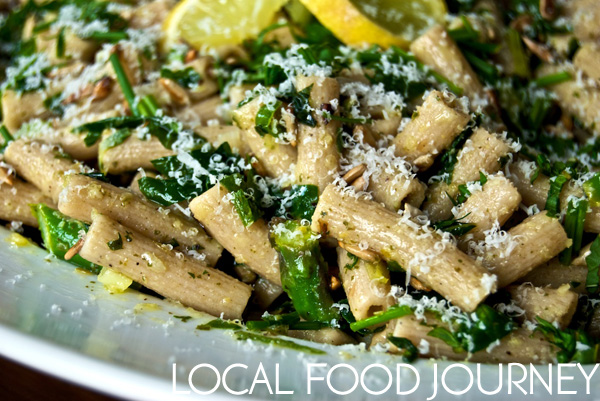 One of the best things about belonging to your local Community Supported Agriculture farm (CSA) is how quickly the season gears up — and how big your box of veggies gets. It starts small with bunches of asparagus, spinach, and rhubarb. And radishes, how I love the radishes — they are eaten the minute they get in the house.
You start to plan meals based on what needs to be used, rather than what you are in the mood for. But I find that it allows you to become much more creative in the kitchen — matching what you have with what sounds good. This dish is a perfect example.
This would make a great picnic side dish, but also a nice vegetarian main course on a warm spring night. I think the asparagus could easily be swapped out for green beans once asparagus season ends.
Serves 8.
Ingredients
1 bunch of asparagus, stemmed and cut into one inch pieces
4 or 5 green onions
1 small bunch of mint
1 cup of spinach (packed), stemmed and chopped
2 lemons, zested and juiced
3/4 cup of olive oil
Sea Salt
Freshly ground pepper
1/2 cup of freshly grated parmesan
1 cup of sunflower seeds or pine nuts, toasted
1 lb. of whole wheat pasta (I used rigatoni, but penne or a similar type would be great)
Directions
Bring a large pot of salted water to the boil. Prepare a medium bowl with an ice bath (just lots of ice and water, really). Cook asparagus in boiling water for 2 minutes and remove quickly and place into the ice bath to stop the cooking. When most of the ice has melted, remove asparagus with a slotted spoon and place on paper towels to dry.
In the same pot of boiling water, cook the pasta according to package directions.
Meanwhile, make the dressing. In the food processor, combine 2 or 3 green onions (in chunks), zest of two lemons, juice of two lemons (about 1/4 cup), olive oil, 1-2 tablespoons of mint (packed), 2 teaspoons of salt, and freshly ground pepper to taste. Process until smooth and place dressing in a large bowl.
Drain pasta well and pour into bowl with dressing. It is good to do this while the pasta is still hot because it will soak up the dressing. Toss well and let cool slightly.
Chop remaining 2 or 3 green onions, spinach, and 2 tablespoons of mint. Mix into pasta and dressing. Add cooked asparagus, 1/2 cup of parmesan, and toss well. Taste for seasoning and add more salt and pepper if necessary.
Chill for several hours (if possible) for flavors to mix and dressing to absorb into pasta.
When ready to serve, give it a good stir and make sure there is enough dressing. If not, add a little more olive oil. Season more if necessary. Mix in toasted sunflower seeds or pine nuts, and garnish top with additional chopped mint, green onions, and parmesan cheese if desired.
Author: Kristin Camplese
Bio: Author of Cuizoo.com | Writer | Photographer | Wife and Mother of 2