Posted by Linda Weaver on 12/14, 2016 at 03:27 PM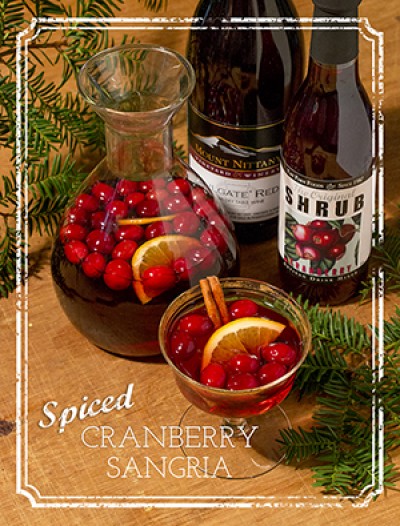 Editor's Note: Linda Weaver of Mt. Nittany Vineyard and Winery offers this delicious recipe for a pleasant cocktail full of holiday flavor that features Mt. Nittany wine and cranberry shrub from Tait Farm Foods.
Spiced Cranberry Sangria
Ingredients
- 1 cup Tait Farm Cranberry Shrub
- 1 bottle Mt. Nittany Tailgate Red
- 2 cups sparkling water
- 2 oranges
- 3 cinnamon sticks (4" each)
- 6 whole cloves
- 1 cup fresh cranberries
- ice
Steps
PLEASE NOTE: This recipe requires 24 hours of preparation!
- The day before, pour 1 cup Tait Farm Cranberry Shrub into a glass jar
- Add 1 sliced orange, cinnamon sticks, and whole cloves.
- Cover and let soak for a day.
- Before making sangria, strain the shrub mixture and discard the fruit and spices.
- Pour strained shrub mixture into a pitcher
- Add the Tailgate Red wine, 1 sliced orange, cranberries, sparkling water, and ice.
- Stir and serve immediately.
Author: Linda Weaver
Bio: Marketing & Media Coordinator for Mount Nittany Vineyard & Winery / Mother of Three Boys / Penn State & UVA Grad / Lover of Cooking, Wine, and the Great Outdoors