Posted by Jamie Oberdick on 09/07, 2017 at 02:22 PM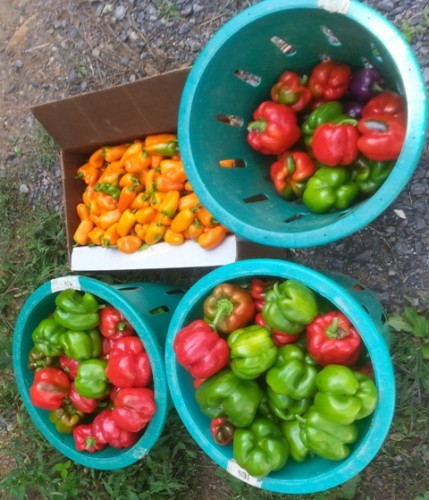 Smoke flavor is a favorite of mine, something I can't get enough of. I love barbecue, chipotle peppers, smoked salmon, you name it…if it's smoky, I'm game.
As an avid gardener, I often become overwhelmed with a surplus of peppers, especially the hot ones since they are so prolific. At first I either gave them away until people were sick of seeing me with them, then I started to freeze the peppers. Then one day I got an idea: smoke them.
The way I smoke peppers differs from most in that I skip the dehydration step, which saves some time and effort. Instead of drying them, I freeze them right after the smoking process. And to be honest, I'm both slow-roasting AND smoking them. Here's how I do it.
- First, make sure you soak your wood chips for at least 30 minutes. I go with about 3-4 cups of chips to start, you can add more if needed.
- Next, get your charcoal or gas grill ready. Keep in mind if you're doing charcoal in a grill without a smoke box, you don't want the temperature to get too high. Although you also want to keep in mind that throwing the soaked wood chips on the charcoal will keep temperatures down a little.
- Arrange the peppers on the warming or top rack of your grill. Keep in mind that you need to keep these on indirect heat or they'll burn.
- Spread wood chips evenly on the coals, shaking off excess moisture before placing.
- Cover, and smoke for 2-3 hours. Check on them from time to time, and add more chips as needed.
- Remove peppers carefully from grill, let cool.
- Put into freezer bags and freeze.
Now, as to what to do with them. When you need to use them, remove from bag and put into a microwavable container, or a small pot. Put in about a cup or so of water, then bring to just about boiling (2 1/2 to 3 minutes in a microwave). Let the peppers sit in the hot water for about 30 minutes or so. You are doing two things here. First, defrosting them, and second, creating a wonderful smoky/spicy savory tea.
The peppers will more or less turn into mush when you chop them, but that's okay. So how to you use the peppers and the "tea?" You can add them to chili, soup, or any other recipe that requires spice and smoke. I use them in my hot sauce recipe to give the sauce a distinct smoke flavor.
Don't like spicy hot food? You can do this with sweet peppers as well. You'll just have the smoke without the fire, so to speak.
Author: Jamie Oberdick
Bio: Editor, Local Food Journey | Passionate about supporting local food in Central PA